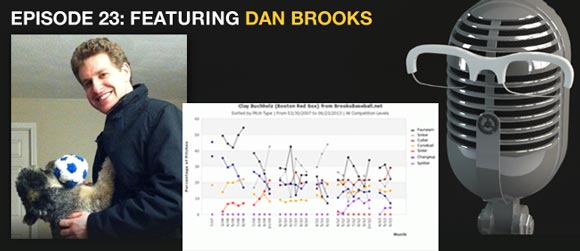 On this episode of the Replacement Level Podcast Neuroscientist & Brooksbaseball.net founder Dan Brooks joined me to discuss PITCH f/x. Dan talked about how and when the system was implemented, what we've learned about pitchers and hitters through the data it has produced, and the algorithm used to determine what pitches a pitcher is actually throwing.
Dan used data from PITCH f/x to provide profiles on several pitchers including Tim Lincecum, Jon Lester, Yu Darvish, and Clay Buchholz.  He also examined what we know about the knuckleball by taking a closer look at R.A. Dickey.
Dan is the organizer of Saberseminar. Saberseminar is an event of sabermetrics, scouting, and the science of baseball. 100% of the proceeds go directly to The Jimmy Fund. To purchase tickets or to find out more information about the event visit their website here.
I hope you listen to and enjoy the interview. It can also be downloaded for free on iTunes.
Follow me on twitter @RossCarey
If you're enjoying the podcast please rate & review on iTunes. Thanks!
Podcast: Play in new window | Download