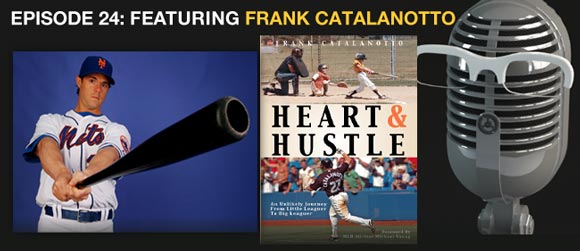 On this episode of the Replacement Level Podcast former MLB left fielder/second baseman Frank Catalanotto joined me to discuss his career. Frank talked about getting drafted by the Tigers, playing through the minors, his first Major League game, and getting traded for Juan Gonzalez.
Frank also spoke about his approach to hitting. He talked about why he kept a detailed book on the pitchers he faced, the type of information advance scouts provided  him about upcoming opponents, and how a pitcher can reveal his pitch type long before the ball is even thrown.
Frank also provided some insights on some of his former teammates and contemporaries including Roy Halladay, Alex Rodriguez, Pedro Martinez, and Barry Bonds.
Frank also discussed the "steroid era", the temptation to use and why he didn't, and when he first realized PED use was becoming a problem in the game.
I hope you listen to and enjoy the interview. It can also be downloaded for free on iTunes.
Follow me on twitter @RossCarey
If you're enjoying the podcast please rate & review on iTunes. Thanks!
Podcast: Play in new window | Download