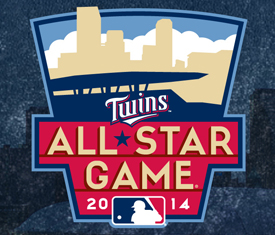 The All-Star rosters officially get revealed Sunday night. In advance of this ESPN had several analysts pick their own All-Star teams. I decided to do the same. I kept within the rules of the All-Star game itself. Every MLB team had to be represented, each team had to have  two reserve catchers and 12 reserve pitchers. I built from there. I excluded players who are injured and will not be able to participate in the game itself.
My picks:
| | | |
| --- | --- | --- |
| STARTERS | AL | NL |
| C | Sal Perez | Jonathan Lucroy |
| 1B | Miguel Cabrera | Paul Goldschmidt |
| 2B | Jose Altuve | Chase Utley |
| 3B | Josh Donaldson | Todd Frazier |
| SS | Erick Aybar | Troy Tulowitzki |
| LF | Alex Gordon | Carlos Gomez |
| CF | Mike Trout | Andrew McCutchen |
| RF | Jose Bautista | Yasiel Puig |
| DH | Edwin Encarnacion | Giancarlo Stanton |
| SP | Felix Hernandez | Adam Wainwright |
| PITCHERS | AL | NL |
| SP | Masahiro Tanaka | Johnny Cueto |
| SP | Chris Sale | Clayton Kershaw |
| SP | Yu Darvish | Julio Teheran |
| SP | Jon Lester | Zack Greinke |
| SP | David Price | Henderson Alvarez |
| SP | Cory Kluber | Josh Beckett |
| SP | Mark Buehrle | Stephen Strasburg |
| SP | Max Scherzer | Madison Bumgarner |
| SP | Scott Kazmir | Jordan Zimmerman |
| SP | Garrett Richards | Tim Hudson |
| RP | Dellin Betances | Huston Street |
| RP | Koji Uehara | Jonathan Papelbon |
| RESERVES | AL | NL |
| C | Derek Norris | Yadier Molina |
| C | Yan Gomes | Buster Posey |
| 1B | Jose Abreu | Freddie Freeman |
| 1B | Brandon Moss | Anthony Rizzo |
| 2B | Ian Kinsler | Daniel Murphy |
| 2B | Brian Dozier | Dee Gordon |
| 3B | Adrian Beltre | Anthony Rendon |
| 3B | Kyle Seager | Matt Carpenter |
| DH/SS | Victor Martinez | Hanley Ramirez |
| OF | Nelson Cruz | Jason Heyward |
| OF | Adam Jones | Billy Hamilton |
| OF | Michael Brantley | Hunter Pence |
| LAST MAN ADDED | AL | NL |
| 2B/OF | Robinson Cano | Seth Smith |
| LAST MAN CUT | AL | NL |
| OF/SS | Yoenis Cespedes | Jhonny Peralta |
This hasn't been a banner year for American League catchers. Mauer and Santana moved off the position in the spring, Wieters is hurt, McCann came over from the N.L. and has struggled all year, Saltalamacchia switched leagues, and Pierzynski has been awful in Boston. That left Perez, Norris, and Gomes with Kurt Suzuki on the outside looking in. I don't think anyone, myself included, saw that group (minus Perez) as all-star candidates in the spring.
There are six DH/1B types in the American League that I think are deserving. Cabrera, Moss, Abreu, Encarnacion, Cruz, and Martinez. I was able to get all six in but that meant having only one shortstop. One on the four second basemen I selected could cover short at some point or Aybar could just play the entire game.
Brantley vs Gardner was a tough decision in the outfield. Much of Gardner's value comes from his defense, which is great in real life but for an all-star game I prefer offense. Brantley's wRC+ of 151 got him in.
I only selected two relievers in each league. The actual rosters will probably double that, if not more. Relievers just don't generate enough value to take up that much space. I'd rather reward a starter who could also pitch more than one inning if need be.
Because I only put two relievers on each team, not many starters got snubbed. I would have liked to have gotten Phil Hughes on, especially since the game is being played in Minnesota, but he was my last pitcher cut.
* UPDATE: Edwin Encarnacion is injured and likely headed to the disabled list making him ineligible to play in the game. Taking his spot on my A.L. roster is Alexei Ramirez. Taking his spot in the starting lineup (as DH) is Jose Abreu.
The Tigers and A's each have four players selected. The Twins, Astros, and Rays were the only A.L. teams with one player chosen.
Biggest snubs: Brett Gardner, Yoenis Cespedes, Alexei Ramirez, George Springer, Phil Hughes, Anibal Sanchez, Dallas Keuchel, Jake McGee, Jake Petricka.
The position player with the highest WAR (Baseball-Reference) not on the team: Cespedes & Steve Pearce at 3.0 each. The pitcher with the highest WAR omitted is Dallas Keuchel at 3.5.
The National League is much stronger at catcher. Lucroy is a MVP candidate this year and Molina & Posey have both been excellent. Devin Mesoraco has also been great posting a year-to-date WAR of 3.0 but that wasn't quite enough to get him on the team.
The N.L. is a more balanced team position wise. The reserves feature two first basemen, two second basemen, and two third basemen. Plus, with Hanley they actually got a backup shortstop.
The N.L. pitching staff has some old guys who are having great comeback years in Beckett and Hudson. I always root for those type of players so I rewarded them both which realistically meant leaving some younger pitchers off who are just as good if not better at this point in their careers.
The Dodgers have the most players represented with six. The Pirates, Cubs, Rockies, Diamondbacks, and Mets each only have one.
Biggest snubs: Jhonny Peralta, Devin Mesoraco, Justin Morneau, Justin Upton, Jeff Samardzija, Jason Hammel, Cole Hamels, Francisco Rodriguez.
The position player with the highest WAR (Baseball-Reference) not on the team: Jhonny Peralta at 3.5. The N.L. pitcher with the highest WAR omitted is Jason Hammel at 2.9.
Those are my rosters. What are yours?
Follow me on twitter @RossCarey
Originally posted 7/3/14