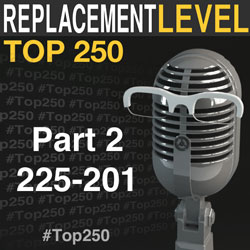 For information about how this list was compiled please read part 1 of this series. This section is for players ranked 225-201.
225: Bobby Doerr– Doerr was a nine time All-Star who had good power for a second baseman of his era. He hit at least 15 home runs ten times and finished his career with 223. He missed all of his age 27 season due to his military service in World War II.
224: Joe Mauer– A star athlete in high school Mauer was eventually picked number one overall by the Twins in 2001. He became the first catcher to lead the AL in batting average, which he's done three times. In 2009 he won the AL MVP and the led the league in AVG (.365), OBP (.444), and SLG (.587). Even with his move to first base Mauer should have no problem quickly climbing up the ranks of this list.
223: Johan Santana– Santana led the AL in ERA+ and FIP three straight years (04-06), and WHIP in four (04-07). He won two Cy Young awards (04, 06) and should have won another in 2005. A former Rule Five pick, Santana's peak is worthy of the Hall of Fame, however he likely needs a few more productive years to boost his counting numbers to actually get in.
222: Buddy Bell– An elite defender and an above average hitter. Bell had a great peak from 1979-1984 averaging 6 wins (bWAR) a year. He faded fast after 84 never again approaching that level of success.
221: Hiromitsu Ochiai– Finished his career with 510 home runs despite not receiving regular playing time until he was 27 years old. A 15 time All-Star, Ochiai won the Triple Crown in 1982, 1985, and 1986. I encourage you to click on his name and read his bio, a fascinating individual who refused to conform but dominated like few others ever have.
220: Lance Berkman– Berkman finished his career with 366 home runs and a slash line of .293/.406/.537 which converts to an OPS+ of 144.
219: Robinson Cano– Cano's career slash line is.310/.358/.499 here is a list of second basemen that can match or better those numbers through their age 31 seasons. 4 of the 5 are in the Hall of Fame which is almost certainly where Cano is headed. He will likely join the top 200 next year and continue to rise up these rankings over the course of his career. He has a reasonable chance of eventually making the top 100.
218: Jeff Kent– A late bloomer Kent didn't become a star until his age 30 season. From 1998-2007 (ages 30-39) Kent averaged 26 HR and 102 RBI a year. He also hit .301/.373/.529 over that time and finished his career with 377 home runs, 351 as a second baseman, most all time.
217: John Clarkson– 328 career wins including 53 in 1885 alone.
216: Louis Santop– The best NLB catcher during the dead-ball era. Santop was known for his power and contact skills. He served for U.S. Navy during World War I in parts of 1918 & 1919.
215: Darrell Evans– Just a two time All-Star Evans finished his career with 414 home runs and an OBP of .361.
214: Zack Wheat– Finished his career with 2,884 hits and a .317 batting average. Wheat had tiny feet, it's believed he wore a size 5.
213: Red Faber– Spitballer who was the last pitcher in the AL to legally throw the pitch. He was a member of the 1919 White Sox but was not involved in the scandal as he did not participate in the World Series. He missed the majority of his age 29 season while serving in World War I.
212: Leon Day– Hall of Famer Monte Irvin on Day, "People don't know what a great pitcher Leon Day was. He was as good or better than Bob Gibson. He was a better fielder, a better hitter, could run like a deer. When he pitched against Satchel, Satchel didn't have an edge. You thought Don Newcombe could pitch. You should have seen Day! One of the best complete athletes I've ever seen". Day missed parts of two seasons due to his military service in World War II.
211: John Olerud– Olerud went from college to the Majors without playing a game in the minor leagues. He finished his career with 500 doubles and an OBP of .398. Here's a list of players who have also accomplished that. He was the starting first baseman on the Blue Jays back-to-back championship teams in 92 & 93.
210: Will Clark– Another college standout. Clark hit a home run off of Nolan Ryan during his first MLB at-bat. His final season was in 2000 (age 36) he hit .319/.418/.546 over 507 plate appearances. Then he retired.
209: Goose Goslin– In the 15 seasons where he played at least 100 games Gosslin hit .300 or better in 11 of them. He never hit below .288 in any of them. He finished his career with 2,735 hits and a batting average of .316. He won a World Series with the Washington Senators in 1924 and with the Detroit Tigers in 1935.
208: Wes Ferrell– Led the AL in complete games and innings pitched three straight years (35-37).  Frequently used a pinch hitter, his career OPS of .797 tops 38 Hall of Fame batters.
207: Kazuhisa Inao– In 1961 Inao produced one of the great seasons in NPB history going 42-14 over 404 innings pitched. His ERA was 1.69, and he struck out 353 batters. He didn't win the MVP that year but did so in 57 & 58. He was good then too leading the league in wins and ERA both years.
206: Ken Boyer– Boyer won the NL MVP in 1964 and was a seven time All-Star. He ranks as the 13th best third baseman ever to play on Adam Darowski's awesome Hall of Stats site. Boyer has a chance to get a plaque in Cooperstown this year as a candidate on the Golden Era ballot.
205: Jim Wynn– Wynn had the misfortune of playing in a low run scoring environment in a terrible hitter's park. He still finished his career with 291 home runs and an OPS+ of 129.
204: Bobby Bonds– 30/30 in five seasons. He finished his career with 461 stolen bases, and 332 home runs. It's a very small list of players who finished their careers with at least 400 steals and 300 home runs.
203: Luis Tiant– 1968 was a historic year for pitchers and Tiant was a part of that history. He posted an ERA of 1.60 and a FIP of 2.04 both led the American League.
202: Ted Lyons– Lyons spent his entire 21 year career with the White Sox. He still holds the franchise record for wins with 260.
201: Joe Torre– A Hall of Fame manager, Torre also put together a Hall worthy career as a player. He won the NL MVP in 1971 and finished his career with a slash line of .297/.365/.452. Torre played 38% of his games at catcher where his numbers are well above Hall of Fame standards, but 34% at first and 24% at third where his numbers fall short. His lack of a true position likely cost him a player spot in the Hall.
You can view and download this section of the list below.
Data courtesy of Baseball-Reference.com
Related Posts: Part 1 (250-226), Part 2 (225-201), Part 3 (200-176), Part 4 (175-151), Part 5 (150-126), Part 6 (125-101), Part 7 (100-76), Part 8 (75-51), Part 9 (50-26), Part 10 (25-1)
Follow me on Twitter @RossCarey and join the conversation at #Top250