For information about how this list was compiled please read part 1 of this series. This section is for players ranked 75-51.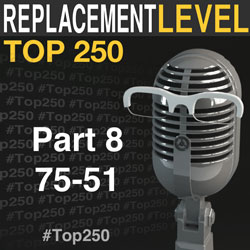 75: Charlie Gehringer– Gehringer was an above average hitter and fielder. He won the AL MVP in 1937 and a World Series championship in 1935. He finished his career with 2,839 hits and a slash line of .320/.404/.480 that's good for an OPS+ of 124.
74: Fergie Jenkins– In 1971 Jenkins led the NL in wins (24), complete games (30), and innings pitched (325). He also won the NL Cy Young that year. He won at least 20 games in six straight seasons from 1967-1972. Over his career he struck out 3,192 batters. He is one of only four pitchers in MLB history with at least 3,000 strikeouts and fewer than 1,000 walks.
73: Robin Yount– In 1982 Yount was a shortstop. That year he hit .331/.379/.578. He led the AL in hits, doubles, SLG%, OPS, OPS+, and WAR. He won the MVP. In 1989 Yount was a centerfielder, that year he hit .318/.384/.511, he won the MVP again. He finished his career with 3,142 hits, 583 doubles, and 271 stolen bases. He is one of twelve players in MLB history to reach at least 3,000/500/250.
72: Shoeless Joe Jackson– A member of the.300/.400/.500 club Jackson's career slash line is .356/.423/.517. His career batting average is third best all time. He was a member of the 1919 White Sox, he and seven of his teammates were accused of taking payouts from gamblers in exchange for throwing the World Series that year. The matter eventually went to court and Jackson and his teammates were acquitted of any wrongdoing. However Major League Baseball was not as lenient. Kenesaw Landis, the new MLB commissioner banned Jackson and his teammates for life. They never played another game in the majors after the 1920 season. To this day they still remain on MLB's ineligible list.
71: Curt Schilling– Schilling finished his career with 3,116 strikeouts to just 711 walks. His career S0/BB ratio of 4.38 to 1 would be the best ever it wasn't for Tommy Bond who pitched from 1874-1884. He and Pedro Martinez are the only two pitchers in history with at least 3,000 strikeouts and fewer than 3,000 hits allowed. He pitched in 133.1 postseason innings posting a record of 11-2, an ERA of 2.23, and a WHIP of 0.968. He made seven starts in the World Series, his team won five of them. He won a World Series Championship in 2001, 2004, and 2007. He was named co-MVP of the 2001 series with his teammate Randy Johnson. He's one of just fifteen pitchers ever with a WAR of 80 and a WAA of 50. After he retired he was sued by the state of Rhode Island and accused of fraud.
70: Arky Vaughan– Vaughan's traditional counting numbers are rather pedestrian, at least by Hall of Fame standards. 2,103 hits, 96 home runs, 926 RBI. Much to the chagrin of Murray Chass (and countless others) value goes beyond traditional counting numbers. He played excellent defense at shortstop, drew a lot of walks, and got on base a ton. Do you know how many shortstops have a career on-base percentage of .400 or higher? One. Just Vaughan. Vaughan abruptly retired in the prime of his career (age 32) due to an ongoing dispute with his manager Leo Durocher. He sat out three full seasons before returning for two more at the age of 35.
69: Johnny Mize– Mize finished his career with a slash line of .312/.397/.562 which converts to an OPS+ of 158. He hit 359 home runs, a total that would likely near 500 had he not missed three full seasons due to his military service in World War II. He was a star for the Cardinals but never won a championship with them, later in his career he became a role player for the Yankees and won five World Series titles.
68: Monte Irvin– Unlike many stars of Negro League baseball, Irvin got a chance to play in MLB. When he did he thrived. His first full season with the Giants came in 1951 at the age of 32. He hit .312/.415/.514 that works out to an OPS+ of 147. He led the NL in RBI (121) and hit 24 home runs. He finished third in MVP voting. This was the kind of production that Irvin was producing on a yearly basis while playing in the Negro Leagues, Mexico, and Cuba. Here's what Hall of Famer Roy Campanella had to say about him, "Monte was the best all-round player I have ever seen. As great as he was in 1951, he was twice that good 10 years earlier in the Negro Leagues."  Prior to Jackie Robinson breaking MLB's color barrier, many in NLB and MLB thought Irvin would be the first to do so. He missed nearly three full seasons due to his military service in World War II.  Further reading on his life and career can be found here, here, and here.
67: Sadaharu Oh– Oh is perhaps the most famous and accomplished player who has never played a game in Major League Baseball. He won 9 MVP awards, 11 Japan Series titles, and finished his career with 868 home runs. In addition to his home run record, Oh is NPB's all time leader in runs (1967), total bases (5,862), RBI (2,170), walks (2,390), intentional walks (427), on-base percentage (.446), slugging percentage (.634), and OPS (1.080).
66: Reggie Jackson– Jackson won the AL MVP in 1973. He won five World Series championships and was named MVP in two of them. (He didn't play in the 1972 World Series due to an injury) He was eventually nicknamed "Mr. October" because of his postseason success. He famously hit three home runs in game six of the 1977 World Series. He finished his career with 568 home runs, and 2,597 strikeouts.
65: Gaylord Perry– Perry pitched in 5,350 innings. He won two Cy Young awards and finished his career with 314 wins, 3,534 strikeouts, and an ERA+ of 117. He is one of just ten pitchers in MLB history with at least 300 wins and 3,000 strikeouts. Perry was notorious for scuffing the ball, loading it with Vaseline, spit, grease, anything he could to gain an advantage. He was basically throwing the modern equivalent of the spitball, which was banned in Major League Baseball in 1920. More on Perry's efforts to manipulate the ball can be read here and here.
64: Brooks Robinson– Robinson was an above average hitter (104 career wRC+), he finished his career with a slash line of .267/.322/.401 with 268 home runs. That's good but Robinson's offensive production is not what made him an all-time great. Many consider him to be the greatest defender in the history of the game, and the numbers support this. He won sixteen Gold Gloves, in a row, no third baseman has more putouts, assists, or double plays turned.  He won the AL MVP in 1964, and won two World Series Championships with Orioles in 1966 and 1970, winning the MVP in the latter.
63: Turkey Stearnes– Stearnes was a power hitting star of the Negro Leagues. He played center field and possessed plus speed. Here's what Hall of Famer Satchel Paige had to say about him, "One of the greatest hitters we ever had. He was as good as Josh [Gibson]. He was as good as anybody who ever played ball". Further reading on Stearnes can be found here and here.
62: Nolan Ryan– Ryan led his league in strikeouts 11 times and walks 8 times. He's the all time leader in both categories (5,714 SO), (2,795 BB). He also has the lowest H/9 ratio in history at 6.6. In 1989, at the age of 42, Ryan pitched in 239.1 innings and struck out 301 batters. That's SO/9 of 11.3 which is the 2nd best ratio he posted in his career, his best was 11.5, he was 40 years old when he did that.
61: Hank Greenberg– Another member of the.300/.400/.500 club Greenberg's bat was elite for the duration of his thirteen year career.  He won the AL MVP in 1935 and in 1940. He didn't win the MVP in 1938, that year he hit .315/.438/.683 with 58 home runs, 146 RBI, and 143 runs. In 1937 he drove in 183 runs, that's still the third highest single season total ever. Due to his military service in World War II Greenberg missed nearly four full seasons and half of a fifth. Had he been playing those years he likely would have hit 500 or more home runs and broken his share of single season and career records. He was also a pioneer, he is widely considered the first Jewish star in American team sports. Further reading on his life and career can be found here, here, and here.
60: Bert Blyleven– How do players make the Hall of Fame? One would like to think its finding that perfect combination of career and peak value. An assessment of statistics and on-field accomplishments put into context by a panel of voters capable of doing just that. Unfortunately, that's not how players get enshrined. The primary way someone gets inducted into the Hall of Fame is via the sniff test. The sniff or the eye test as it's sometimes called works just fine with players like Greg Maddux and Rickey Henderson. It also works at keeping players like Jacque Jones and Armando Benitez out (both of those players received votes). It fails for everyone else in between. That's a big gap of players subjected to a failed system.
The sniff test is the reason players like Lou Whitaker, Kenny Lofton, and Bobby Grich were each bounced from the Hall of Fame ballot their first year on it. It's the reason Tim Raines, Alan Trammell, and Mike Mussina have yet to get in. It's the reason Jack Morris got so many votes (66.7%), and it's the reason it took Blyleven fourteen years to get enshrined. Let's put aside advanced metrics for a moment, Blyleven finished his career with 287 wins, 3,701 strikeouts, and an ERA of 3.31. No pitcher prior to Blyleven had ever put up those kinds of numbers and not gotten in. So why didn't he get the call right away? The sniff test convinced many voters he was nothing but a compiler, was never that good to begin with, and that his stats were misleading and didn't capture who he really was as a pitcher. The narrative around a player is not always correct. Blyleven was always a better pitcher than the sniff test gave him credit for. He was great when he wasn't winning Cy Young awards or making All-Star teams. He was great even though his greatness went under the radar for most of his career. The voting process for the Hall of Fame is woefully out of date, the voters need an overhaul, and the sniff test needs to go. As for Blyleven, here's the company he keeps.
59: Sandy Koufax– For six years, the last six of his career, Koufax was as good as any pitcher we have ever seen. He led the NL in wins three of those years, ERAs in five, strikeouts in four, WHIP in four, and FIP in all six. He won three Cy Young awards and a league MVP. He won two World Series championships during that stretch, and won the MVP in both. During that time frame he threw four no-hitters, including a perfect game. A lingering elbow injury (likely a UCL tear) forced him to retire at the age of 30.
58: Yogi Berra– During his nineteen year playing career Berra won ten World Series championships, three MVP awards, and was named an All-Star fifteen consecutive years. From 1950-1956 he never finished below 4th in MVP voting. Prior to making his MLB debut he served in World War II.
57: Pete Rose– Rose led the NL in hits seven times, batting average three times, runs four times, and on-base percentage twice. He won the Rookie of the Year in 1963, the NL MVP in 1973, and three World Series Championships. He finished his career as MLB's all time leader in games played (3,562), plate appearances (15,890), at-bats (14,053), and of course hits (4,256). Rose was legitimately great for the first nineteen years of his career, but he played for another five seasons after that and he was a replacement level player in all of them. He hung around to chase a record. He eventually got it, but this is the true definition of a compiler. Rose eventually became the manager of the Reds, he was later accused of gambling on baseball, specifically betting on the Reds to win. The league launched an investigation and ultimately found him guilty. He was banned for life by then commissioner Bart Giamatti. He remains on MLB's ineligible list and thus is ineligible for induction to the Hall of Fame. Rose initially proclaimed his innocence with regards to the gambling allegations made against him but after years of denials he eventually confessed.
56: Rod Carew– Carew led the American League in batting average seven times. He won the Rookie of the Year in 1967 and the MVP in 1977, hitting .388 in the latter. He was an All-Star every year of his career except for his last. He retired with 3,053 hits.
55: Jeff Bagwell– Bagwell finished his career with a slash line of .297/.408/.540 that works out to an OPS+ of 149. He won the NL Rookie of the Year in 1991 and the MVP in 1994. His OPS+ that 1994 season was 213. He retired with 449 home runs and 202 stolen bases. Rumors of steroid use have thus far kept him out of the Hall of Fame. Bagwell has repeatedly denied ever using.
54: Frank Thomas– Thomas won back-to-back MVP awards in 1993 & 1994. He led the AL in on-base percentage four times and OPS+ three times. He's a member of the .300/.400/.500 club and finished his career with 521 home runs, 1,704 RBI, 1,667 walks and an OPS+ of 156. Thomas was a vocal advocate against steroids use. He (and Tony Gwynn) warned about steroids coming into the game and called for testing as early as 1995.  Thomas was the only active player who cooperated with Senator George Mitchell on his now infamous report.
53: Derek Jeter– Jeter won five World Series championships with the Yankees. He played 158 postseason games hitting .308/.374/.465 with 200 hits and 20 home runs. His regular season slash line is .310/.377/.440. He finished his career with 3,465 hits, 544 doubles, and 358 stolen bases. Jeter rates as a below average defender, well below, despite that he won five Gold Glove awards.
52: Bob Feller– Feller made his MLB debut at the age of 17. He led in AL in wins six times and strikeouts seven times. He missed three full seasons and a significant chunk of a fourth due to his military service in World War II.
51: Chipper Jones– Jones won a World Series ring in 1995 and was a key part of the Braves teams of the 90s and early 2000s that won fourteen division titles in a row (1991-2005). He was named NL MVP in 1999. He finished his career with a slash line of .303/.401/.529 which converts to an OPS+ of 141. He retired having hit 478 home runs.
Data courtesy of Baseball-Reference.com
Related Posts: Part 1 (250-226), Part 2 (225-201), Part 3 (200-176), Part 4 (175-151), Part 5 (150-126), Part 6 (125-101), Part 7 (100-76), Part 8 (75-51), Part 9 (50-26), Part 10 (25-1)
Follow me on Twitter @RossCarey and join the conversation at #Top250