The Baseball Hall of Fame (in conjunction with SABR) launched its Diamond Mines exhibit last year. The exhibit and its corresponding web database have scouting reports for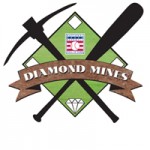 over 4,000 players from more than 400 scouts.
Last year I used these scouting reports to take a look at some of the notable newcomers on the 2014 Hall of Fame ballot. I thought I would do the same with the 2015 class.
Randy Johnson– Drafted in the 2nd round (36th overall) of the 1985 draft by the Montreal Expos.
In 1985 shortly after being drafted by the Expos Johnson was playing in an Instructional League game where he was scouted by Larry Monroe. Monroe pitched for the White Sox in 1976 and later became a scout for them. Monroe was not in love with what he saw from Johnson at the time. The first comment he made about him not surprisingly focused on his gigantic 6'10" frame but he also noted that Johnson's curveball/slider was "too big." He reported that Johnson "gave away his changeup" and that he was "inconsistent with all of his stuff." In fairness, he praised Johnson's fastball calling it "Major League caliber." He also noted that Johnson was a  "poor fielder with no move to first base" and that he "didn't see enough consistency to like him as a Major Leaguer, even though he had the arm."
In 1990 Johnson was scouted twice (at least) by Scott Reid who was working for the Cubs at the time. Reid played outfield for the Phillies in 1969 & 1970. On his report dated October 1st he praised Johnson remarking he had "great potential and plus stuff." He also noted that "he needs better command." He placed a check mark in a column asking if the player observed could help his team. His follow up report dated December 1st echoed his praise for Johnson.
in the spring of 1991 Johnson was scouted by Eddie Bockman. Bockman had a four year MLB playing career, playing for three teams from 1946-1949. Bockman loved Johnson. He noted that he "had the best arm he had seen all spring" and that he had "the stuff to be a consistent winner." He praised Johnson's velocity and movement on his fastball. He noted that Johnson's slider was "hard and effective" and that he had "good deception with his off-speed pitches." He also noted that Johnson's delivery to the plate was "slow."  He referred to Johnson as a "goofy guy" and remarked that "something seems to happen every year to get him out of the rotation."
Johnson of course went on to become one of the greatest pitchers of all-time. He finished his career with 303 wins, 4, 875 strikeouts, and ERA+ of 135. He won five Cy Young awards, a World Series MVP (co MVP with Curt Schilling), and was a ten time All-Star. His career WAR (Baseball-Reference) of 104.3 ranks 4th among all integration era pitchers.
Pedro Martinez– Signed by the Los Angeles Dodgers as an amateur free agent on June 18th, 1988.
In 1994 Pedro's first season with the Expos he was scouted by Tom Ferrick. Ferrick played in the majors for nine seasons, he missed three more while serving in World War II. Ferrick was impressed with what he saw from Pedro. He graded his fastball a 6 (on the 2-8 scale) with a future grade of a 7. He also praised Martinez's poise, arm action, makeup, and control. He noted that Pedro had the potential to be a "front-line starter" and that he "moved hitters off the plate." He applauded his toughness and referred to Martinez as a "power pitcher."
Pedro went on to win three Cy Young awards, a World Series championship, and was selected as an All-Star eight times. He retired with a record of 219-100, 3,154 strikeouts, and an ERA+ of 154.
John Smoltz– Drafted in the 22nd round (574th overall) of the 1985 draft by the Detroit Tigers.
In 1990 Smoltz was 23 years old and already a member of the Braves starting rotation. That summer he was scouted by Larry Monroe. Monroe was impressed with what he saw. He noted that Smoltz had a "great arm, good overhand curveball, plus slider, and changeup." For weaknesses he listed a lack of movement on Smoltz's fastball, and observed he was slow to the plate and first base. He summarized Smoltz by saying he "should dominate the league for awhile" and that he was a potential "20 game winner on a good team."
Those Braves ended up being pretty good. They won fourteen division titles in a row from 1991-2005. Smoltz  dominated in the postseason pitching 209 innings, striking out 199 batters, and posting a record 15-4. As for the regular season he retired with 214 wins, 3,084 strikeouts, and 154 saves. He and Dennis Eckersley are the only pitchers in MLB history with at least 150 wins and 150 saves.
Gary Sheffield– Drafted in the 1st round (6th overall) of the 1986 draft by the Milwaukee Brewers.
Sheffield was heavily scouted prior to the 1986 draft. Russ Bove who was working for the Major League Scouting Bureau at the time observed that he was a "strong, well built athlete who was still growing and maturing." He praised Sheffield's short stroke, quick wrists, live arm and noted that the "ball jumps off his bat." He called him a "definite Major League prospect."
Joe Branzell who was a scout for the Rangers prior to the 1986 draft was not quite as high on Sheffield as Bove was. He liked his strong body and power potential but was concerned about his "heavy lower half."  He also noted that Sheffield appeared lackadaisical, didn't hustle, had a bit of hotdog in him, and that he did not seem to want to "go at em."
Denny Doyle who played second base in the majors for eight seasons was a scout for the Red Sox at the time. He noted that Sheffield had the "strength & hand quickness to generate good bat speed." He liked that Sheffield was selective at the plate, and was high on his home run potential. He didn't like him as a shortstop (no one did) but thought he had the tools become a good major league third baseman. He was however concerned that Sheffield did not take advantage of "his lower half strength", and that he had a tendency to "over-swing & over-stride at the plate."
Jay Hankins a former Major League outfielder who was then a scout for the Major League Scouting Bureau was also high on Sheffield's power potential. He described him as being "strong throughout his body" and graded his future power a 6. For weaknesses he noted that Sheffield "lunges at the plate and tries to pull everything." He also reported that Sheffield "needed to play with more enthusiasm."
In 1991 Sheffield was struggling with the Brewers. He also had a reputation for being a malcontent. When Eddie Bockman scouted him that year he noted that " a lot of ability was being wasted." He also said that Sheffield "has trouble with management in one phase or another", and that he "simply self destructs." However, he also was high on Sheffield's power and noted that "if he grows up some day, he will be an asset to any ball club." He finished his report saying that Sheffield had "too much physical ability to ignore."
Sheffield finished his 22 year MLB career with a slash line of .292/.393/.514 which translates to an OPS+ of 140. He hit 509 home runs, was selected as an All-Star nine times, and won a World Series championship with the Marlins in 1997.
Nomar Garciaparra– Originally drafted out of high school by the Milwaukee Brewers in the 5th round of the 1991 draft, he did not sign. After spending three years at Georgia Tech he was drafted by the Boston Red Sox in the 1st round (12th overall) of the 1994 draft.
Garciaparra was also heavily scouted prior to the 1994 draft. The White Sox who were picking 26th that year sent several scouts to look at him. Mark Bernstein liked Nomar's defense but wasn't nearly as impressed with his bat. He labeled him a slap hitter, graded his power as 20 present/25 future, and noted that he "has to try to make contact instead of pulling and yanking every pitch." George Bradley was higher on Garciaparra. He praised his defense labeling him a natural at shortstop, with great hands, quickness, and range. In terms of his bat, Bradley was slightly more optimistic than Bernstein but still not overly impressed. He called Garciaparra a potential .260 hitter with "warning track power." When summarizing Garciaparra he recommended the White Sox take him with their 1st round pick. Kevin Burrell, a former catcher who spent 11 seasons in the minors was mixed on Garciaparra's potential. He liked his speed, defense, and aggressiveness but was concerned about his weight and lack of muscle mass. Garciaparra weighed 165 pounds at the time, Burrell noted he was "very lean, had no muscular development, was thin boned, and physically weak." He also said that he had a lot of room to gain weight and noted he "must do so to be a productive everyday Major League shortstop."
Working for the Brewers Russ Bove also scouted Garciaparra prior to the 1994 draft. He compared him to Dave Concepcion. He noted his quick 1st step, good instincts on the bases, and called him "an ideal number two hitter." He thought his offensive potential was that of a .275 hitter with below average power. The Brewers picked 4th overall in 1994, they chose Antone Williamson.
Garciaparra had a productive but injury filled career. He retired with a slash line of .313/.361/.521. He hit 20 or more home runs seven times, was a six time All-Star, and had six seasons with a WAR of at least 6. Overall he falls below Hall of Fame standards but his peak will get him some votes.
Carlos Delgado– Signed by the Toronto Blue Jays as an amateur free agent on October 9th, 1988.
Delgado spent much of his minor league career as a catcher but it was apparent a move to first base was looming. Marv Foley, a former catcher who played five seasons in the majors was then the manager for the Rochester Red Wings (AAA-Orioles affiliate). He filed a brief report on Delgado praising his improvement from the previous season. He said he had "big time power."
The Orioles also had John C. Stokoe scout Delgado in 1995. Stokoe a former pitcher, pitched four seasons in the minor leagues. Stokoe saw improvements in Delgado's defensive at first base but noted he "still needed a lot of work there." He praised Delgado's power potential saying he had a "quick bat" and "can hit it out of any part of the park." However, he also reported that Delgado was vulnerable to getting jammed inside, and not selective enough at the plate. He described his interest in him as "mild."
Delgado retired with 473 home runs and an OPS+ of 138. He was a two time All-Star.
Although not a newcomer to the ballot historical trends suggest Craig Biggio is a lock to get enshrined this year. Let's take a look at what the scouts had to say about him as well.
Craig Biggio– Drafted in the 1st round (22nd overall) of the 1987 draft by the Houston Astros.
When Biggio was a sophomore at Seton Hall he was scouted by Brad Kohler who was working for the Major League Scouting Bureau at the time. Kohler was very impressed with what he saw from Biggio. He called him a "definite Major Leaguer with great body control, speed, and arm strength." He was also impressed with his physical maturity noting Biggio's strong compact body, broad shoulders, solid legs, and large forearms. He called him "an outstanding athlete."
A few months later Biggio was playing in the Cape Cod League. He was scouted then by Donald Labossiere of the Padres. Labossiere called Biggio an "exciting player who hustles, steals bases, and does a good job of handling pitchers." He also noted that he "shows a lot of desire." He wasn't as impressed with his bat grading his future hitting ability a 4.
The following year he was scouted by Phil Rossi. Rossi played two seasons in the minors before becoming a scout, he was working for the Red Sox at the time. Rossi praised Biggio's instincts, work habits, and physical maturity calling him "strong, sturdy, and tight muscled." He reported that Biggio's arm and speed were both Major League caliber. He called him a "front line type of receiver with Gold Glove potential." He also said Biggio was "hard-nosed", and praised his aggressive style of play. He noted that he was capable of playing other positions if necessary.
Biggio did eventually play other positions, primarily second base. He played in the majors for twenty seasons and retired with 3,060 hits, 291 home runs, 414 stolen bases, and 1,844 runs.
So who will actually get into the Hall this year?
Johnson and Martinez are locks. Biggio should get in as well. Smoltz is an interesting wild card here, he's deserving but other pitchers of his caliber like Schilling and Mussina have thus far fallen short. I think Smoltz clears the line but it will be very close. Sheffield has no chance because of his connections to BALCO. Garciaparra and Delgado both had excellent careers but both fall below Hall of Fame standards and neither of them has a chance of getting voted in.
If that holds true it would mean the BBWAA is putting four players in, the last time that happened was in 1955. There are many more deserving candidates on the ballot but because of a change in standards, and PED hysteria those are the only four who stand a chance.
Follow me on twitter @RossCarey
Related posts: Diamond Mining the 2014 Hall of Fame Class