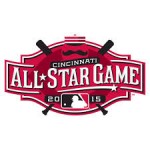 The full All-Star rosters officially were revealed last night. Here's what my rosters would look like. I kept within the rules of the All-Star game itself. Every MLB team had to be represented, each team had to have  two reserve catchers and 12 reserve pitchers. I built from there. I excluded players who are injured and will not be able to participate in the game itself. In general I try to just pick the best player but in close situations I tend to favor established stars, and younger players on the brink of stardom.
The intent of the All-Star game should be to showcase MLB's best talent and biggest stars. Major League Baseball is subpar at marketing individuals, because of this ad agencies tend to shy away from showcasing baseball players in their commercials. The NBA by contrast excels at marketing its stars and they reap the benefits of additional PR from sponsors like Nike, Reebok, and Gatorade.
The biggest difference between my rosters and the the actual rosters are the amount of relievers I selected. I chose three in the American League and two in the National league. The actual American League roster features more relievers than starters which seems counterproductive both in terms of game strategy and marketing. I don't get how putting Darren O'Day on your roster helps your team more than someone like Corey Kluber. Kluber is not only having a great season but he also is the defending Cy Young award winner. He seems like the kind of guy MLB should not only want on the roster but also want to see pitch in the game. The National League selected five relievers, two fewer than the American League but still Bruce Bochy and the powers that be left Clayton Kershaw off in favor of a bullpen arm. Clayton Kershaw. The same Clayton Kershaw won both the NL MVP and Cy Young awards last year. He's one of the biggest stars in the game who is also having an All-Star worthy season. He ranks 2nd in the National League in fWAR, 1st in SO/9, and 5th in Baseball Prospectus' new pitching metric DRA. Kershaw should be on the team and I would have him as the third pitcher in behind Scherzer and his teammate Greinke.
Another example of a missed opportunity to showcase young talent was the selection of Brock Holt over his teammate Mookie Betts. Brock Holt is a great story and he has played legitimately well but the omission of Betts who currently ranks 10th among all position players in bWAR seems like a mistake to me. Both Betts and Bogaerts made roster, Holt did not.
Below is my full roster:
Russell Martin and Stephen Vogt are both having excellent years but I chose Martin to start because I don't think he's given full credit for his defensive value. Pujols got the start because Miguel Cabrera is injured and unable to play.
I think you can make a strong case for Keuchel, Gray, Archer, or Sale to start. I chose Sale because I think he's the most dominant of the four and has been pitching at this level for longer than the other three.
I strongly considered adding Carlos Correa but ultimately I decided that 25 games is too small of a sample size for me to justify a space on the roster.
The final spot came down to Kiermaier vs Gardner. Kiermaier has the better WAR on both FanGraphs and Baseball-Reference but Gardner is a much better offensive player and has more of a track record of success.
The Yankees had the most players selected on my American League roster with five. None made my starting lineup however.
The A.L. position players with the highest WAR (Baseball-Reference) not on the roster are Kevin Kiermaier at 3.6, Brock Holt 3.1, and Kevin Pillar 2.9  The pitchers with the highest WAR omitted are Hector Santiago and Kyle Gibson, both at 2.5.
Snubs: Kevin Kiermaier, Dustin Pedroia, Brock Holt, Logan Forsythe, Alex Rodriguez, Alex Gordon, Carlos Correa, Huston Street, David Robertson, Wei-Yin Chen, Carlos Carrasco, Hector Santiago.
The National League has two players (Harper & Goldschmidt) who are both on pace to have all-time great seasons. Even with the injury to Giancarlo Stanton (who was on pace to hit 60 HR before he got hurt) their lineup is deeper than the American League's. I replaced Stanton with Pederson in the starting lineup.
I don't mind the rule that every team needs to be represented but it was tough to get a deserving Brewer on the roster. Adam Lind is having a good year but he's blocked by Goldschmidt, Rizzo, Votto and Gonzalez. Plus Freddie Freeman is having just as good as season as Lind and he didn't even make the cut. I needed another outfielder so Braun made the team even though there are other non Brewers who are statistically more deserving.
Scherzer has been the best pitcher in baseball so far this year. He was a rather easy choice to start even though Greinke has also been excellent.
The final roster spot for me basically came down to Kolten Wong vs Matt Carpenter. Carpenter has been the better offensive player but Wong has been the better, albeit slightly, overall player.
The Dodgers had the most players selected on my National League roster with six.
The position players with the highest WAR (Baseball-Reference) not on my N.L. roster are: Adam lind at 2.5, Derrick Norris 2.2 and Jayson Hayward at 2.2. The N.L. pitchers with the highest WAR omitted are Michael Wacha 2.4, Jake Arrieta 2.2, and Francisco Liriano at 2.2.
Snubs: Matt Carpenter, Adam Lind, Derrick Norris, Jake Arrieta, Franciso Liriano, Lance Lynn, Jordan Zimmerman, A.J. Ramos.
The All-Star game will be played Tuesday July 14th at Great American Ballpark in Cincinnati.
Follow me on twitter @RossCarey