This is part two of my series ranking the top 250 baseball players ever. For more information about how this list was compiled please refer to part one.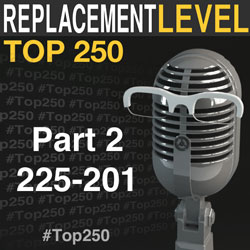 This section is for players ranked 225-201.
225: Johan Santana was the best pitcher in baseball for six years from 2003-2008. During that time he won two Cy Young awards and should have won a third in 2005. Born and raised in Venezuela he was discovered and signed by legendary scout Andres Reiner, who also signed Bobby Abreu and many others.
224: Joe Torre is a Hall of Fame manager who also had an outstanding career as a player. He won the National League MVP in 1971 and finished his career with a slash line of .297/.365/.452. He played 38% of his games at catcher where his numbers are well above Hall of Fame standards, but 34% at first base and 24% at third where his numbers fall short. His lack of a true position likely cost him a player spot in the Hall.
223: Joey Votto currently ranks 17th all time in adjusted OPS. He's produced six seasons with an OPS+ of 150 or better, for context, that's also how many David Ortiz, Mark McGwire, and Reggie Jackson had. He's comfortably a member of the .300/.400/.500 club.
222: Justin Verlander reclaimed his elite form in 2016. He threw 227 innings and led the American League in strikeouts (254), WHIP (1.001), and WAR (6.6). Verlander won the Rookie of the Year award in 2006, and both the Cy Young and MVP awards in 2011. He's led the American League in strikeouts four times and currently has 2,197. He has a good chance to reach 3,000.
221: Omar Linares was the best player in Cuba and perhaps all of international baseball for much of the 1980s and 90s. A star at third base as a teenager he later led Cuba to two Olympic gold medals in 1992 and 1996. As he approached the end of his career he was loaned to the Chunichi Dragons of Japan's Central League from 2002-2004, where he struggled, as age and injuries had gotten the best of him.
220: Félix Hernández had a decade long stretch of dominance which saw him win a Cy Young award in 2010, pitch a perfect game in 2012, make six All-Star teams, and strike out 2,000 batters before turning 30. DRA loves King Felix.
219: Bill Terry finished his career with a ridiculous slash line of .341/.393/.506. In 1930 he hit .401/.452/.619 but no MVP award was officially given out. The Sporting News later conducted their own poll to decide the MVP, Terry was chosen as the winner. He succeeded John McGraw as manager of the Giants and won over 800 games.
218: Joe Medwick was a member of the infamous "Gas House Gang" Cardinals. He was a 10-time All-Star, the NL MVP in 1937, and the star of the 1934 World Series.
217: John Clarkson won 328 games, including 53 in 1885 alone. He was half of the "$20,000 battery" along with King Kelly. He spent the last years of his life in various mental hospitals in Massachusetts. Further reading on him can be found here and here
216: Leon Day was not known as self-promoter so here's what Hall of Famer Monte Irvin had to say about him (courtesy of the Baseball Hall of Fame's website) "People don't know what a great pitcher Leon Day was. He was as good or better than Bob Gibson. He was a better fielder, a better hitter, could run like a deer. When he pitched against Satchel, Satchel didn't have an edge. You thought Don Newcombe could pitch. You should have seen Day! One of the best complete athletes I've ever seen." Day served with the U.S. Army during WWII and helped land supplies on Utah Beach shortly after D-Day.
215: John Olerud went directly from college to the Majors without playing a game in the minor leagues. He finished his career with 500 doubles and an OBP of .398. Here's a list of players who have also accomplished that. He was the starting first baseman on the Blue Jays back-to-back championship teams in 92 & 93.
214: Will Clark was another college standout who parlayed his excellent amateur career into a roster spot on the 1984 U.S. Olympic team. He hit a home run off of Nolan Ryan during his first Major league at-bat. He had one of the most productive final seasons in history.
213: Jeff Kent was a late bloomer but from 1998-2007 (ages 30-39) he averaged 26 HR and 102 RBI a year. He won the NL MVP in 2000, and finished his career with 377 home runs, 351 as a second baseman, most all time.
212: CC Sabathia won the Cy Young award in 2007 and World Series with the Yankees in 2009. He's faded recently but was once one of the most productive young pitchers of the integration-era. He's still a good bet to reach 3,000 strikeouts.
211: Goose Goslin got his nickname from the awkward way he flapped his arms in the outfield when running for a fly ball. He was a two-time World Series champion, first with the Senators in 1924 then again with the Tigers in 1935. He played in the majors for 15 seasons and never hit below .288 in any of them. He finished his career with 2,735 hits.
210: Wes Ferrell was one of the better pitchers of his time but he could also swing a bat. He was frequently used as a pinch hitter, with good reason his career OPS of .797 betters 39 Hall of Fame batters. He's not in Hall but his brother Rick is.
209: Ray Dandridge was a contact hitter and plus defender at multiple positions. His peak years primarily took place in Mexico as he was one of the first Negro League stars to be successful recruited by the Pasquel brothers.
208: Yutaka Fukumoto is NPB's career leader in stolen bases (1,065) and triples (115). He led the Pacific League in stolen bases thirteen times, runs ten times, and walks six times. He was a selected as an All-Star on seventeen occasions, and won the MVP in 1972.
207: Gabby Hartnett was known for his exceptional throwing arm but he was also the first catcher to hit more than 20 home runs in a single season. He retired as the all-time leader among catchers in hits, home runs, RBI, and games caught, though all of those records have since been surpassed.
206: Ken Boyer was a seven-time All-Star and the MVP of the National League in 1964. He is a member of the Hall of Merit and the Hall of Stats but not the Hall of Fame.
205: Jim Wynn had the misfortune of playing in a low run scoring environment in a terrible hitter's park. This suppressed his offensive numbers and caused him to be one of the more underrated players in Major League history. He was an All-Star just three times and never won a major award. BP's WARP views him as nearly a 70-win player.
204: Bobby Bonds had five 30/30 seasons. He finished his career with 461 stolen bases and 332 home runs. It's a small list of players who have surpassed both 400 steals and 300 homers.
203: Kazuhisa Inao produced one of the great seasons in NPB history in 1961 pitching to a 42-14 record with 404 innings pitched. His ERA was 1.69 and he struck out 353 batters. He didn't win the MVP that year but did so in 57 & 58. He was good then too leading the league in wins and ERA both years.
202: Bobby Abreu is one of just six players in Major League history with at least 400 stolen bases and 250 home runs. His career on-base percentage of .395 betters 113 Hall of Famers.
201: Reggie Smith finished his 18-year career with 314 home runs, 1,092 RBI and 1,123 runs. He's a 60+ WAR player on Baseball-Reference, FanGraphs, and BP. After his playing career he became a coach. He was instrumental in the development of Mike Piazza.
I will post the list in chunks of 25 over the next two weeks. Part three will be up tomorrow. Follow me on Twitter @RossCarey and join the conversation at #Top250
Related posts: Part 1, Part 2, Part 3, Part 4, Part 5, Part 6, Part 7, Part 8, Part 9, Part 10