This is part four of my series ranking the top 250 baseball players ever. For more information about how this list was compiled please refer to part one. This section is for players ranked 175-151.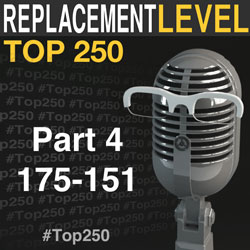 175: Robinson Cano just finished his age 33 season. Among second baseman through age 33 he ranks in the top 5 in total bases, hits, home runs, RBI, and slugging percentage. Many middle infielders start to decline around this age but Cano is coming off one of his best seasons. He's a good a bet to eventually reach 3,000 hits. Neither UZR or FRAA are as high on Cano's defense as DRS.
174: Biz Mackey was a contact hitter and a defensive specialist who played for nearly thirty years. He also managed the Newark Eagles when they won the Negro League World Series in 1946. Hall of Famer Cool Papa Bell heaped praise on him in this quote "Actually, as much as I admired Campanella as a catcher, all-around, and Gibson as a hitter, I believe Biz Mackey was the best catcher I ever saw." Further reading on Mackey can be found here and here.
173: Fred Clarke was a player/manager for both the Louisville Colonels and the Pittsburgh Pirates. He finished his career with a batting average of .312 and with 2,678 hits. 220 of those hits were triples, which ranks 7th all time. As a manger he won 1,602 games which was briefly the Major League record.
172: Joe Gordon was nicknamed "Flash" for his fancy footwork around the bag. He was a plus defender at second base, and a power threat at the plate. He hit at least twenty home runs in a season seven times and he finished his career with 253. He famously won the 1942 American League MVP award over Ted Williams who hit for the Triple Crown that year. He lost two full seasons (age 29 & 30) due to his military service during World War II. He won five World Series championships during his eleven-year career.
171: Ed Delahanty finished his career with a .346 batting average, which ranks 5th all time. He hit over .400 three times, which includes his 1899 season when he hit .410/.464/.582. The circumstances of his death remain one of baseball's great mysteries.
170: George Davis was an excellent defender at shortstop, he could also hit and run. He finished his twenty-year career with a .295 batting average, 2,665 hits, and 619 stolen bases. He spent the final years of his life in a mental hospital in Philadelphia suffering from symptoms of syphilis. You can read more on his life and career here and here.
169: Katsuya Nomura is statistically the 2nd best player in NPB history. Playing primarily as a catcher he finished his career with 657 home runs, 2.901 hits, and 1,988 RBI. He also won the Triple Crown in 1965, and played for 26 seasons, which was a record at the time of his retirement. However, he played his home games in Osaka Stadium, which was one of the smallest ballparks in NPB history. He later became a manager and won three Japan Series championships with the Yakult Swallows in 1993, 1995, and 1997.
168: Graig Nettles is the rare example of an underrated Yankee. Underrated because his primary skill was his exceptional defense, and because he wasn't as good as his all-time great contemporaries Schmidt and Brett. However, Nettles played for 22 seasons, was a six-time All-Star, and hit 390 home runs. He ranks 12th in JAWS at third base.
167: Jim Bunning won 224 games and struck out 2,855 batters over his 17-year career. He threw two no-hitters, including a perfect game, and once pitched an immaculate inning. Post career he entered politics and eventually became a U.S. Senator representing the state (Commonwealth) of Kentucky. You can see some of the bills he voted for and against here and here.
166: Bobby Grich is one of just 20 middle infielders in Major League history with a WAR over 70. He was a six-time All-Star, and finished his career with an OBP of .371. He fell off the Hall of Fame ballot his 1st year on it.
165: Dwight Evans played with more famous teammates, walked a lot when walks weren't as fashionable, excelled defensively, and had a down year (1983) in the middle of his prime. All of this contributed to him being one of the most underrated players in Major League history. Bill James made this compelling Hall of Fame case for him.
164: Kenny Lofton won four Gold Glove awards, and led the American League in stolen bases five straight years from 1992-1996. He is one of four players in Major League history with at least 600 stolen bases and 900 walks. He had a skill set that would have played in any era. Elite speed and defense, good contact hitter, and a high on-base guy. He ranks 9th among center fielders in JAWS and 7th in Hall Rating.
163: Home Run Baker was a member of the famed $100,000 infield. He led the American League in home runs four straight years from 1911-1914. His home run totals each of those years were 11, 10, 12, and 9. He finished his career with 96 home runs.
162: Judy Johnson is considered by many to be the greatest third baseman in the history of the Negro Leagues. He was a well above average in the field and at the plate. He eventually became a mentor to Josh Gibson. After he retired as a player he became a scout for the Phillies (and several other teams), his most notable signing was Dick Allen (185 on this list).
161: Don Drysdale was an 8-time All-Star, 3-time World Series Champion, and the Cy Young award winner in 1962. That year he set two Major League records by tossing six consecutive shutouts, and 58 consecutive scoreless innings. The shutout record still stands.
160: Whitey Ford led the American League in wins three times, and ERA twice. He won the Cy Young in 1961 and pitched on six World Series winning Yankee teams. He was named MVP of the 1961 World Series. Ford threw the spitball long after it was outlawed. His mixture wasn't just spit either, he rubbed baby oil, turpentine, dirt, rosin, and just about anything else he could find to manipulate the ball. He missed two full seasons due to his military service in World War II.
159: Vladimir Guerrero was notoriously impatient at the plate. He never walked 100 times in a season. He was a free swinger who routinely hit pitches thrown well out of the strike zone for extra base hits, yet he never struck out 100 times either. He won the AL MVP in 2004 and was a 9-time All-Star. He will appear on the Hall of Fame ballot for the 1st time in 2017. He will eventually have to write an induction speech but he will have to wait a few years to do so. Further reading can be found here and here.
158: Andruw Jones was an all-time great defender who also hit 434 home runs over his 17-year career. His production fell off a cliff after he turned 30 though. He gained weight, lost his range in the field, and was never the same player again.
157: Mule Suttles was a power hitting star of the Negro Leagues who was known for his kind demeanor, and using a 50-ounce bat. Statistics from the Negro Leagues are incomplete and can conflict at times, but writer and researcher John Holway credits Suttles with hitting the most home runs in NLB history.
156: Willie Stargell was the face of the "We Are Family" Pirates of 1979. That year he won the NL MVP and led the Pirates to their second World Series championship of the decade. A dominant hitter, Stargell finished his career with 475 home runs and an OPS+ of 147. He was one of the players implicated in the Pittsburgh drug trials of 1985 but he was later cleared by then Commissioner Peter Ueberroth of any wrongdoing.
155: Gary Sheffield was consistently great at the plate throughout his 22-year career but often seemed to find himself surrounded by controversy as well. He finished his career with 509 home runs and a slash line of .292/.393/.514 which translates to an OPS+ of 140. Defensively Sheffield was a liability, UZR rates him as the worst defender ever. He was named in the Mitchell Report for purchasing illegal steroids from BALCO.
154: Ed Walsh has the lowest ERA in Major League history (min 1000 IP). He was known for his durability and for throwing the spitball. He advocated for the legalization of the spitball until the day he died.
153: Joe Cronin was a shortstop who was above average at the plate and in the field. He finished his career with a slash line of .301/.390/.468. He later became a manager, general manager, and eventually president of the American League.
152: José Méndez was a star pitcher in Cuba and the Negro Leagues. He was elected to the Cuban Baseball Hall of Fame as part of their inaugural class in 1939, and the National Baseball Hall of Fame in 2006. Hall of Fame Manager John McGraw had this to say about him, "Joe Mendez is better than any pitcher but Christy Mathewson and Mordecai Brown – and sometimes I think he's better than Matty." He died young at age 41. Further reading can be found here and here.
151: Roger Connor retired in 1897 as MLB's all-time home run leader with 138. It was his career home run record that Babe Ruth surpassed on his way to 714.
I will post the list in chunks of 25 over the next two weeks. Part five will be up tomorrow. Follow me on Twitter @RossCarey and join the conversation at #Top250
Related posts: Part 1, Part 2, Part 3, Part 4, Part 5, Part 6, Part 7, Part 8, Part 9, Part 10