This is part eight of my series ranking the top 250 baseball players ever to play the game. For more information about how this list was compiled please refer to part one. This section is for players ranked 75-51.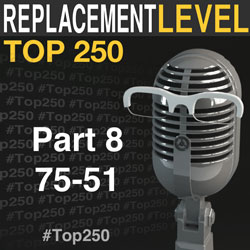 75: Clayton Kershaw is in the midst of a historic run of dominance. Over the last six seasons he has led the National League in ERA four times, WHIP four times, strikeouts three times, and FIP twice. He's won three Cy Young awards, a MVP, and recorded a 300 strikeout season. This year a back injury prevented him from qualifying for the ERA title but his numbers are still mind-blowing He had 172 strikeouts and just 11 walks, his WHIP of 0.725 would be the lowest ever, if he qualified. His career ERA+ currently sits at 159, that's the best ever for a starter. He has struggled in the postseason, part of that is on him, but he's also been mismanaged at times, and had some bad luck with his bullpen too.
74: Charlie Gehringer won the American League MVP in 1937 and a World Series championship with the Tigers in 1935. A fun fact from early Bill James abstract, in 1936 he led all second basemen in both errors and fielding percentage. He finished his career with 2,839 hits and a slash line of .320/.404/.480 which converts to an OPS+ of 124. He later became a longtime member of the Baseball Hall of Fame's Veterans Committee.
73: Miguel Cabrera just keeps hitting. In 2016 he hit .316/.393/.563 which translates to an OPS+ of 150, his 8th season reaching 150 or better. He's won two MVP awards, which includes his Triple Crown season in 2012. He currently has 466 home runs, 1,553 RBI, and 4,414 total bases. Hank Aaron who ranks 2nd, 1st, and 1st in Major League history in those categories had 481, 1,541, and 4,680 through his age 33 season. In terms of counting numbers, Cabrera is not far off Aaron's historic pace. Cabrera was detained in 2009 after a physical altercation with wife, he also was arrested for DUI in 2011.
72: Fergie Jenkins won at least 20 games in six straight seasons from 1967-1972. He finished his 19-year career with 284 wins, and 3,192 strikeouts. He is one of only four pitchers in Major League history with at least 3,000 strikeouts and fewer than 1,000 walks. In 1980 Jenkins was arrested on drug charges. Fourteen days later then commissioner Bowie Kuhn banned him for life, making Jenkins the first athlete banned for a drug related offense. An arbiter overturned Kuhn's decision a few weeks later, Jenkins retired after the 1983 season. He is the only player born in Canada currently in the Hall of Fame. Jenkins played with the Harlem Globetrotters during the offseason from 1967-1969.
71: Arky Vaughan was a defensive standout, and is the only shortstop in Major League history with a career on-base percentage over .400. He retired in the prime of his career (age 32) due to an ongoing dispute with his manager Leo Durocher. He sat out three full seasons before returning for two more at the age of 35.
70: Johnny Mize finished his career with a slash line of .312/.397/.562 which converts to an OPS+ of 158. He hit 359 home runs, a total that would likely near 500 had he not missed three full seasons due to his military service during World War II. He was a star for the Cardinals but never won a championship with them, later in his career he became a role player for the Yankees and won five World Series titles in a row.
69: Reggie Jackson should have been the 1st overall pick in the 1966 draft but he was passed over by the Mets and picked 2nd by the Kansas City Athletics instead. Jackson went on to win three World Series championships with the A's, he later won two more with the Yankees as well. He was named World Series MVP twice, earning himself the nickname "Mr. October". He finished his career with 563 home runs, and a Major League record 2,597 strikeouts. Jackson had a reputation for being confrontational and antagonistic with many, including the press. Lisa Saxon detailed several examples of his boorish behavior in this piece.
68: Adrián Beltré just keeps producing. In 2016 he had another 5+ WAR season, his 7th in a row, and 10th overall. His career totals currently sit at 2,942 hits, 445 home runs, 1,571 RBI, and 1,478 runs. This puts him in very exclusive company. Next year he should collect his 3,000th hit, score his 1,500th run, and hit his 600th double. He's already one of the most productive post age 30 players in Major League history. He has a decent chance to finish his career as a 100 WAR player.
67: Gaylord Perry won two Cy Young awards and finished his career with 314 wins, and 3,534 strikeouts. Perry was notorious for scuffing the ball, loading it with Vaseline, spit, grease, anything he could use to gain an advantage. He was basically throwing the modern equivalent of the spitball, which was banned in Major League Baseball in 1920. More on his efforts to manipulate the ball can be read here, here and here.
66: Brooks Robinson like Ozzie Smith, was defensively superior to everyone else that has ever played his position. He won sixteen Gold Gloves in a row, and no third baseman has more putouts, assists, or double plays turned. Robinson won the AL MVP in 1964, and won two World Series Championships with Orioles in 1966 and 1970, winning the MVP in the latter.
65: Curt Schilling finished his career with 3,116 strikeouts and just 711 walks, that's the fewest walks allowed for anyone with 3,000 or more strikeouts. He and Pedro Martinez are the only two pitchers in Major League history with at least 3,000 strikeouts and fewer than 3,000 hits allowed. Schilling's one of the great postseason pitchers ever too. He pitched in 133.1 playoff innings posting a record of 11-2, with an ERA of 2.23, and a WHIP of 0.968. He made seven starts in the World Series, his team won five of them. He won a World Series Championship in 2001, 2004, and 2007. He was named co-MVP of the 2001 series with his teammate Randy Johnson. DRA is very bullish on Schilling's overall value, he ranks 7th on their career WARP leaderboard. After he retired he was sued by the state of Rhode Island and accused of fraud, and fired from ESPN for "unacceptable conduct" after he made several disparaging comments about homosexuals, Muslims, and Hilary Clinton.
64: Hank Greenberg is widely considered the first Jewish star in American team sports. He won the AL MVP in 1935 and in 1940. He didn't win the MVP in 1938, that year he hit .315/.438/.683 with 58 home runs, 146 RBI, and 143 runs. In 1937 he drove in 183 runs, that's still the third highest single season total ever. Due to his military service in World War II Greenberg missed nearly five full seasons. Had he been playing those years he likely be a member of the 500 home run club. Further reading on his life and career can be found here, here, and here.
63: Monte Irvin's first full season with the Giants came in 1951 when he was thirty-two years old. He hit .312/.415/.514 which converts to an OPS+ of 147. He led the National League in RBI (121), hit 24 home runs, and finished third in MVP voting. These are the kind of numbers that Irvin was producing on a regular basis while playing in the Negro Leagues, Mexico, and Cuba. Here's what Hall of Famer Roy Campanella had to say about him, "Monte was the best all-round player I have ever seen. As great as he was in 1951, he was twice that good 10 years earlier in the Negro Leagues."  Prior to Jackie Robinson breaking MLB's color barrier many thought Irvin would be the first to do so. He missed nearly three full seasons due to his military service in World War II.  Further reading on his life and career can be found here, here, here.
62: Bert Blyleven was one of the great young pitchers the game has ever known. He had the occasional elite season after turning 30 but for the most part was consistently above average for another decade. He retired with 3,701 strikeouts, which ranks 5th all time. He's one of just twelve pitchers in Major League history with a WAR of 90 and WAA of 50. He rates as one of the best pitchers ever, regardless of which system you prefer.
61: Sadaharu Oh is the most dominant player in NPB history. His numbers are staggering. He won 9 MVP awards, 11 Japan Series titles, and finished his career with 868 home runs. In addition to his home run record, he's NPB's all time leader in runs (1967), total bases (5,862), RBI (2,170), walks (2,390), intentional walks (427), on-base percentage (.446), slugging percentage (.634), and OPS (1.080).
60: Sandy Koufax had a historic stretch of dominance. For six years, the last six of his career, he was arguably as good as any pitcher we have ever seen. He led the National League in wins three of those years, ERA in five, strikeouts in four, WHIP in four, and FIP in all six. He won three Cy Young awards, and a league MVP. He won two World Series championships during that stretch, and was named the MVP in both of them. He also threw four no-hitters, including a perfect game. A lingering elbow injury (likely a UCL tear) forced him to retire at the age of 30. At age 36 he was elected to the Hall of Fame, making him the youngest person ever to gain induction. He's been a Hall of Famer for the majority of his life.
59: Pete Rose is Major League Baseball's all-time hit leader. He led the National League in hits seven times, batting average three times, runs four times, and on-base percentage twice. He was voted Rookie of the Year in 1963, and MVP in 1973. In addition to his hits record, he retired as MLB's all-time leader in games played (3,562), plate appearances (15,890), and at-bats (14,053). Rose was legitimately great for the first nineteen years of his career, but he played for another five seasons after that and he was a replacement level player or worse in all of them. He hung around to chase a record, he eventually got it but this is the true definition of a compiler. He was a player/manager and used his powers to insert himself high in the batting lineup where he had no business hitting anymore. He was later accused of gambling on baseball, specifically betting on the Reds to win when he was the manager. The league launched an investigation and ultimately found him guilty. He was banned for life by then commissioner Bart Giamatti. He remains on MLB's ineligible list and thus is ineligible for induction to the Hall of Fame. Rose initially proclaimed his innocence with regards to the gambling allegations made against him but after years of denials he eventually confessed. New evidence shows he also bet on games when he was a player. In 1990, Rose spent five months in prison for tax fraud.
58: Yogi Berra in terms if winning, is baseball's Bill Russell. He played in the World Series in 14 of his 19 seasons, winning ten of them. He was as named an All-Star fifteen consecutive years, and won the MVP award three times. From 1950-1956 he finished 4th or higher in MVP voting every year. Prior to making his Major League debut he served in World War II with the U.S. Navy where he participated in the D-Day invasion at Omaha Beach. He also had a penchant for saying funny things.
57: Frank Thomas won back-to-back MVP awards in 1993 & 1994. He led the American League in on-base percentage four times and OPS+ three times. He's a member of the .300/.400/.500 club. He finished his career with 521 home runs, 1,704 RBI, 1,667 walks, and an OPS+ of 156. He was a vocal advocate against steroids use. He and Tony Gwynn warned about steroids coming into the game and called for testing as early as 1995.  Thomas was the only active player who cooperated with Senator George Mitchell on his now infamous report. Thomas shares a birthday with the next player on the list, Jeff Bagwell.
56: Jeff Bagwell finished his career with 449 home runs and 202 stolen bases. That combination of speed and power is rare for anyone but it's particularly unique for a first basemen. Bagwell won the National League Rookie of the Year in 1991 and the MVP in 1994. His OPS+ that 1994 season was 213. In 1999 he reached based safely 331 times, that's the 19th best single season total but it's the highest number ever produced by a right-handed batter. Not bad for a guy once traded for Larry Anderson. Rumors of steroid use have thus far kept him out of the Hall of Fame but that mistake should be corrected early next year. Bagwell has repeatedly denied ever using. More neat Bagwell stats courtesy of Ryan Spaeder can be found here.
55: Derek Jeter played in seven World Series' with the Yankees, winning five of them. He played in 158 postseason games hitting .308/.374/.465 with 200 hits and 20 home runs. For perspective his regular season slash line is .310/.377/.440, he actually played better when it mattered most. He finished his career with 3,465 hits, 544 doubles, and 358 stolen bases. Jeter was a below average defender, well below, despite that he won five Gold Glove awards.
54: Steve Carlton won four Cy Young awards and finished his career with 329 wins, 4,136 strikeouts, and an ERA+ of 115. He led the National League in wins four times, strikeouts five times, and FIP three times. In 1972 the Phillies won 59 games, Carlton won 27 of them.
53: Rod Carew was born in Panama. He led the American League in batting average seven times. He won the Rookie of the Year in 1967 and the MVP in 1977, hitting .388 in the latter. He hit over .350 five different times. Carew stole home on 17 different occasions, that's most of anyone in the expansion era. He was an All-Star every year of his career except for his last. He retired with 3,053 hits, and an on-base percentage of .393. Carew served six years with the U.S. Marine Corps Reserve.
52: Bob Feller made his Major League debut at the age of 17, by 20 he was the best pitcher in baseball. He led the American League in wins six times, and strikeouts seven times. He missed three full seasons and a significant chunk of a fourth due to his military service during World War II.
51: Chipper Jones was selected number one overall in the 1990 draft, he later became a crucial part of the Braves teams of the 90s and early 2000s that won fourteen division titles in a row (1991-2005). He was named National League MVP in 1999, and finished his career with a slash line of .303/.401/.529 which converts to an OPS+ of 141. He retired having hit 478 home runs, third most by a switch-hitter.
Part nine will be up tomorrow. Follow me on Twitter @RossCarey and join the conversation at #Top250