The official 2018 Hall of Fame ballot was mailed out last week to eligible voting members of the BBWAA. Nineteen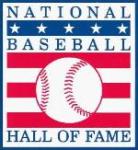 newcomers, headlined by Chipper Jones and Jim Thome, join a star-studded and stuffed ballot alongside the fourteen holdover candidates. Of the thirty-three players on the ballot nineteen have WAR of at least 50, nine of them clear the lofty JAWS standard at their position. With such an extreme logjam of deserving players and the 10-slot voting limit still in place some overly qualified players will get lost in the shuffle, struggle to gain significant ground, or possibly fall off the ballot altogether.
Two years ago the BBWAA voted to make all ballots public starting in 2018, however the Hall itself recently vetoed that initiative giving voters the ability to remain anonymous if they chose.
Another development this year was the letter Joe Morgan sent to the voting members of the BBWAA. Morgan, a Hall of Famer himself is also the Vice Chairman of the Hall of Fame and a member of their board of directors. Morgan's letter was sent on official Hall of Fame letterhead urging voters not to vote for anyone connected with steroid use. Many voters have been asking for guidance from the Hall for years on this issue and Morgan basically just told them that he, several other Hall of Famers, and the Hall itself does not want any of the PED guys in their club.
Morgan has the right to his point of view but I take issue with the overall point he's trying to make. There are almost certainly steroid users already enshrined in the Hall of Fame. His attitude also caters to the nonsensical belief that modern players are dirty scoundrels but players from yesteryear, in baseball's "glory years" are saintly and above cheating of any kind. The reality is players have sought an advantage legal or otherwise from the moment the first pitch was thrown in the 1800s.
I do think steroids boost performance. I don't think they can make the 25th man on the roster a Hall of Famer but I do think when they are accompanied with a vigorous workout regimen they can enhance strength, bat speed, and exit velocity, all things that can make a baseball travel further. However, being opposed to cheating is not actually about the results, at least it shouldn't be. It's about the intent. If the intent is to cheat the outcome shouldn't matter. People cheated when Morgan played. They took drugs, some of them illegal, to enhance their performance. They scuffed balls, corked bats, and some tried to intentionally injure their opponents. Some of those cheaters are in the Hall of Fame, Morgan doesn't seem to have a problem with that, if he wanted to be consistent, he should.
Last year the Hall of Fame's Veterans Committee, a much smaller voting group comprised mostly of Hall insiders elected Bud Selig. Selig, a prominent figure of the collusion scandal of the 1980s later became commissioner of Major League Baseball. He saw the influx of illegal drugs coming into the game and repeatedly did nothing do discourage their use. Too much money was being made at the time to actually take a stand. Bud profited from the chemically enhanced numbers as much if not more than any of the actual users. So did the managers of the era, like Tony LaRussa and Joe Torre, both members of the Hall of Fame, who oversaw many a team full of juiced up stars. They were at best, complacent with the issue.
The letter also undermines the BBWAA, almost entirely. The Hall's stance on the PED issue has always been "we trust the writers to make this decision", well it turns out they only trust them to make the decision if it's the one they agree with. In recent years the Hall tabled a BBWAA suggestion to increase the 10-slot player limit to 12 and just recently vetoed their plan to make all ballots public. The BBWAA is a sensitive group, many will not take kindly to this blatant gerrymandering by the Hall. Jeff Passan already announced he's abstaining this year, I expect others to follow.
Since this post was supposed to be about predictions and not just another rant about how the Hall has mismanaged the performance-enhancing drugs issue, I do think the letter will influence some voters. The hardliners who say, "Never, not in my lifetime, will I vote for anyone connected to steroids" are emboldened. Those who were on the fence, have a clear message from the Hall, we don't want them in. I was never convinced that either Barry Bonds or Roger Clemens, the two players who Morgan is clearly targeting here, were going to get in anyway, but now I think they're toast. Their candidacies will stall and they will age off the ballot. Neither has a chance with the VC.
I like to make my initial set of predictions before any ballots are released and Ryan Thibodaux's tracker goes live, but a handful of voters have already released their picks. It's a small sample size though. Those early ballots are not an indicator as to how the vote will play out in the end.
There is only one shoo-in candidate this year and that's Chipper Jones. Jones was the best position player on the Braves dynasty teams of the 90s that won fourteen division titles in a row, and the World Series in 1995. Jones won the NL MVP in 1999 and finished his nineteen-year career with 468 home runs and as a member of the prestigious .300/.400/.500 club. Jones will comfortably clear the 75% threshold needed for induction. Prediction 95%
Jim Thome is one of just three players in MLB history with 600+ home runs and a career on-base percentage over .400. The others are Barry Bonds and Babe Ruth. That's pretty good. Thome, another newcomer to the ballot, actually has a few things working against him though, he never won any BBWAA hardware, and he only finished top-five in MVP voting once. He never won a world series either, and for a guy with 612 career home runs he only led his league in that category one time. I think for some he fails the dreaded sniff test, and let's not kid ourselves, the sniff test is still king here. I think he gets in but it will be closer than it should be. Prediction 82.5%
Trevor Hoffman was briefly the all-time leader in saves finishing his career with 601 of them. The 7-time All-Star just missed getting elected last year when he received 74% of the vote. As he enters his third year on the ballot he should have no problem picking up the extra few votes he needs to surpass 75%. Prediction 78.5%
Vladimir Guerrero debuted strong last year coming in with 71.7% of the vote. Guerrero, a 9-time All-Star, won the AL MVP in 2004 and finished his career with 449 home runs. His poor defensive range and subpar base-running cut into his overall value but his impressive debut on the ballot basically guarantees his eventual enshrinement. The only question is does it happen this year or next. It's going to be close. Prediction 75%
Edgar Martinez has seen his support more than double in the past two voting cycles. He was at 27% in 2015 but he received double-digit gains two years in a row reaching 58.6% last year. He only has two years left on the ballot so his late surge will have to continue. Edgar was a late-bloomer who blossomed into one of the best hitters the game has ever seen. Another member of the .300/.400/.500 club, (4 of the 21 are on this ballot), he was a 7-time All-Star and 2-time batting champion. The award given out annually to the best designated hitter bares his name. Tim Raines was at 55% with two years to go. He jumped to 69.8 his penultimate year and finished strong with 86%. I expect Edgar to follow a similar path. Prediction 65%
Mike Mussina crossed 50% for the first time last year, which puts him in great shape to eventually surpass 75%. I always thought Mussina (and Schilling for that matter) would get in after Roy Halladay did. When Halladay goes in next year it will be because he was great and deserves the honor not because of his premature death, but it will be hard for the writers to keep Mussina out once Halladay is elected. Mussina betters him in all three versions of WAR, WAA, IP, K's, and wins. Here's a list of all the pitchers since 1900 with 250 wins, 2,500 strikeouts, and an adjusted ERA of 120 or better. Including this year, Mussina has six turns left on the ballot, an increase of just 5% a year gets him to 75% by year nine. That's about right. Prediction 57%
Roger Clemens won seven Cy Young awards, twice won the pitching Triple Crown, was named an All-Star on 11 different occasions, and won two World Series championships with the Yankees. He surpassed 50% of the vote for the first time last year and this apparently caused the Hall's management team, including Morgan, to have a conniption. Morgan's letter was indented to prevent Clemens and Bonds from gaining any more support, I think it will be effective. His candidacy stalls, big time. Prediction 52%
Barry Bonds retried as the all time leader in home runs and walks. He holds the single season record in home runs, walks, intentional walks, on-base percentage, slugging percentage, OPS, and OPS+. At his chemically enhanced peak he was best player anyone has ever seen. He surpassed 50% last year, he and Clemens each have five years left on the ballot. The likelihood of them clearing 75% was already slim, now with Morgan's letter it's basically non-existent. I think he takes a step back here. Prediction 49.5%
Curt Schilling's egregious buffoonery has cost him votes (and his job at ESPN). Last year he re-tweeted an image of a man wearing a t-shirt that called for the lynching of journalists. Not surprisingly the BBWAA did not take kindly to that and penalized him harshly, his support dropped by over 7%. This will not be a one-time slap on the wrist for Schilling though. Since Donald Trump took office, a President who Schilling openly supports, attacks on the media have become commonplace. Trump has repeatedly tried to discredit news organizations that have tried to expose his ties to Russia or any of his illegal and unethical behavior. He's used the term "fake news" over and over again with the purpose of creating a false sense of reality to his supporters, so when damaging news about him is revealed, they won't believe it. It's worked. Schilling is not Donald Trump but he will be penalized for sharing the same beliefs with someone who openly attacks the freedom of the press and lies habitually to anyone that will listen. I would personally put Schilling in, I think one can make a reasonable case that he's the best player not in the Hall with no connections to steroids or gambling. He was on the lengthy Blyleven path to entry before the extent of his ignorance was revealed. He would be hovering around 60% right now if he were a "normal" candidate. He's statistically deserving of enshrinement but the sniff test doesn't do him any favors, neither do his distorted political views. Prediction 47%
For what it's worth, Chipper Jones has said many offensive things and seemingly shares Schilling's political views, but it won't hurt him at all. That's weird, right? Maybe we should just look at their on-field accomplishments and not let character or political vitriol be a deciding factor in who gets elected?
Omar Vizqel was an excellent defender who managed to stay healthy and productive for an extended period of time. He finished his 24-year career with 2877 hits and nearly 1500 runs. However, offensively Vizquel falls short of Hall standards, very short. His career OPS+ of 82 would be tied for the lowest mark in the Hall. Vizquel was good for several years but he was very rarely great. This can be identified a number of ways, two big ones are his WAA (wins above average) and his 7-year peak score as part of Jay Jaffe's JAWS system. His WAA of 5.0 would rank 149th of the 153 position players in the Hall, and his 7-year peak score ranks him 62nd at the shortstop position. His time on the ballot and the debate around his Hall of Fame credentials will closely resemble the tedious Jack Morris discourse between younger, stat based writers and the more traditional eye-test observers. In addition to the Morris comparison, I think there will be a high correlation between Vizquel supporters and Lee Smith voters. Smith received 34.2% of the vote last year, his last on the ballot but peaked previously at 50.6%. Despite the crowded ballot and the abundance of advanced metrics that show he falls below the line, Vizquel is going to debut strong. Prediction 39%
Larry Walker has the same OPS+ as Chipper Jones and the same WAR as Jim Thome. Those numbers adjust for ballpark and the overall run scoring environment of the league. Walker did get a huge boost playing in Colorado but he still deserves credit for the runs and wins he helped generate while playing there, those games count, and he obviously had no control over the altitude in Denver or how the ball, pre-humidifier, flew out the park. He only played 30% of his games at Coors anyway. Huge home/road splits aren't a new thing with Hall of Famers either. Here are a few examples,
Hank Greenberg: Home: .338/.441/.681 Road: .289/.382/.529 that's an OPS difference of 210.
Bobby Doerr: Home: .315/.396/.533 Road: .261/.327/.389 Ops difference of 213
Chuck Klein: Home: .353/.410/.617 Road: .286/.346/.466/ OPS difference of 214
Larry Walker: Home: .348/.431/.637 Road: .278/.370/.495 OPS difference of 203.
Walker is stuck in ballot no-man's land, he has three years left, which isn't enough time to gain the support he needs. He will eventually age off the ballot, which is an accomplishment in itself, but he deserved better than this and hopefully gets a closer look in a few years with the VC. Prediction 25%
Fred McGriff finished his career with 493 home runs and 1550 RBI. His numbers were hurt by the offensive explosion after the strike and by the strike itself. The writers aren't going to put him in but he has a good chance with the Veterans Committee down the line. Prediction 21%
Manny Ramirez finished his career with 555 home runs, 1885 RBI and a ridiculous slash line of .312/.411/.585. He is by any measure one of the best hitters in Major League history. However, Manny was also suspended on two different occasions for his steroid use, and he failed the initial survey test in 2003. He debuted strong last year but his two positive tests will keep him out, likely forever. Morgan's letter will hurt him too. Prediction 20%
Jeff Kent hit more home runs than any other second basemen in Major League history. He also won the NL MVP in 2000, and was selected an All-Star five times. He has his shortcomings too. He was a late bloomer, he wasn't much of a defender and he was below average as a runner. He's a borderline guy who would be getting more consideration if the ballot were not so overcrowded. Prediction 15%
Scott Rolen actually clears the JAWS standard at third base. A defensive superstar who had a hard time staying healthy, Rolen finished his career with 2077 hits, 316 home runs, and an OPS of .855. He won eight Gold Glove awards and his defensive excellence made him a 70-win player, good for 67th all time among position players. The sniff test and the 10-slot limit are going to crush Rolen, hopefully he can linger on the ballot long enough to build some actual momentum later on. Prediction 13%
Gary Sheffield, in my opinion is unfairly being lumped together with Barry Bonds and Manny Ramirez. Yes, he was named in the Mitchell Report for purchasing performance-enhancing drugs from BALCO, but Sheffield did not appear to be a chronic user. He admitted to using in 2002 when he worked out with Bonds that offseason. He claimed he had no clue he was even using a steroid, that he was just following Bonds and taking what he was taking. Sheffield seems genuinely bitter and upset with Bonds these days for dragging him into all of this mess, if I were him, I would be too. I realize it's certainly possible that Sheffield is just blatantly lying, that he was a regular user who had his own sophisticated doping regimen independent of Bonds and BALCO but it just doesn't appear that's the truth. One of the unfair things the BBWAA has done with regards to the steroid issue is treat it as an all or nothing type of situation. Use once, you're guilty forever. That's just not a reasonable point of view. Sheffield never saw a dramatic spike in his numbers or in the shape of his physique. He retired with 509 home runs and OPS+ of 140. His defense was poor, very poor, UZR rates him as the worst defender ever, that obviously cuts into his overall value making him much more of a borderline candidate but he deserves a closer look. Realistically, he has no chance of getting in though, I will be surprised if he makes it the full ten years on the ballot. Prediction 10%
Andruw Jones was the defensive seperator many want Omar Vizquel to be. He was a better hitter than Vizquel too, even Vizuel's most ardent supporters will concede that. Jones won ten Gold Glove awards, was a five-time All-Star, and hit 434 home runs. He's a 60-win player, which is incredible considering he amassed nearly all of his value during an eleven-year stretch from 1997-2007. He was 30 in 2007, his production fell off a cliff after that, which is rare, especially for someone so close to meeting Hall of Fame standards. Jones' rapid decline was seemingly self-induced. After the 07 season, he was a free agent, signed a big contract with the Dodgers, and promptly gained a ton of weight. Carrying the extra pounds made him slower, this hurt his defensive range and his bat speed at the plate. He would never recover or regain his elite form. He was out of the league at 35. Like many others at the bottom of this ballot, the 10-slot limit is really going to hurt his chances. The sniff test kills him too. His time on the ballot will likely be short lived but I think he clears 5% for at least one year. Prediction 8%
Billy Wagner is entering his third year on the ballot. Inning for inning he was just about as good as any reliever ever has been but his relatively short and injury prone career cuts into his overall value. Wagner pitched in just 903 innings during his 16-year career, no pitcher in the Hall has fewer than 1000. Wagner is a borderline candidate who will be hurt by the influx of new talent on the ballot. Prediction 8%
Sammy Sosa has managed to linger on the ballot for five years, as he enters his sixth he's in jeopardy off falling off. Sosa, the NL MVP in 1998 finished his career with a mind-blowing 609 home runs. There is no credible evidence connecting him to steroids though many suspect he used habitually throughout his homerun-hitting peak. Prediction 6%
Johan Santana's six-year peak is comparable to the dominant stretch Sandy Koufax produced at the end of his career. From 2004-2006 Santana led the American League in strikeouts, ERA+ FIP, WHIP, H/9 and SO/9 every year. He won two Cy Young awards during that stretch and probably deserved another in 2005. His peak is Hall-worthy but he didn't add enough value beyond those six years. Recent comps to Johan include David Cone, Bret Saberhagen, and Orel Hershisher. Cone and Saberhagen were one and done on the ballot, Hershisher got bounced after his 2nd year. I would love to see Johan hang around for a while but I fear he will follow Cone and Saberhagen's quick exit out the door. Prediction 4%
There are other notable newcomers on the ballot too. Jamie Moyer was very good for a long time but was never really great, he still ended up with a WAR over 50. So did Johnny Damon, who retired with 2769 hits, 1668 runs, and a pair of World Series championships. Chris Carpenter won the NL Cy Young award in 2005 and finished top three two other times, he was really good. Kerry Wood won the Rookie of the Year award in 1998 and is one of just four pitchers in Major League history to strikeout twenty batters in a single game. Livan Hernandez and Hideki Matsui were stars in their respective countries before playing a Major League game, both were All-Stars here too, Matsui was even named MVP of the 2009 World Series. It's hard to get into the Hall of Fame, it should be, but these were great players who deserve a hat tip too.
I currently have the BBWAA electing four players, which has only happened four other times 1936 (5), 1947, 1955, and 2015. I'll update my predictions regularly on Twitter and interview voters about their ballots on my podcast. The voting results will be announced January 24th, follow along.
You can see how I did last year here and find links to my past predictions right here.