For as long as I can remember I've been making baseball lists. The all 80s team, the all switch-hitter team, the best first basemen, etc. What I've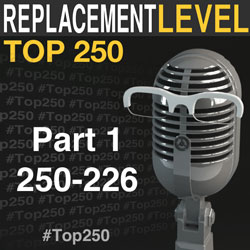 never done is make a top 100 list. A list ranking the top 100 baseball players ever to play. That's what I set out to do at the beginning of the season. That list quickly grew into the top 200, which eventually swelled and became the top 250. I stopped at 250 for a couple of reasons, one was to preserve sanity, the other is that 250 is roughly the amount of players in the Hall of Fame. The Hall has 240 (211 MLB/29 NLB) and is certain to add at least two more in January. Since no one makes a top 242 list, the top 250 seemed like a good marker.
A few quick notes about the list before I get into it:
– The list includes players from the Negro Leagues and Japan. Many of those players never played a game in Major League Baseball.
– This list is not a judgment of character on or off the field. There are terrible people on this list and others who have a direct link to cheating in one way or another. Some people on this list have committed violent crimes, others are racists, gamblers, steroid & amphetamine abusers, spitball throwers, and bat corkers.  I have attempted to put their accomplishments into context, however I have no interest in pretending their playing careers never happened by excluding them altogether.
– Peak vs. Longevity. This list is full of players on each side of that spectrum but in general I favor the peak performer
– The dead-ball/segregation era dilemmas. The consensus all-time starting nine still has five players who started their career before 1924. Four before 1916. This doesn't make any sense to me. Baseball has spent much of its existence in a racist, segregated stranglehold. Despite all the outrage over recent steroid guys tainting the record book, nothing compromised the authenticity of numbers more than segregation. Yet, many of baseball's biggest stars and best players played in a fully segregated league. What to do? I don't think ignoring them or pretending their accomplishments never happened makes any sense. A list without Honus Wagner or Cy Young would obviously be a farce.  What I did do is consider the era they played in, the quality of competition they faced and adjusted their rankings accordingly.
The New York Times did a fantastic piece on the evolution of sprinters, specifically focusing on the 100 meters. Thomas Burke who won the race in Athens in 1896 (the year before Honus Wagner made his MLB debut) would be 65 feet behind Usain Bolt if they raced today. 65 Feet!
Tennis is the most glaring in-your-face example of how much sports have evolved. John McEnroe and Chris Evert are frequent commentators at the majors. McEnroe and Evert were both at the top of their games from the late 70s to the mid 80s. That's not that long ago, however when ESPN or NBC show their old clips it's painfully obvious how much slower the game was then. It's a different game for many reasons, but if you had a DeLorean time machine handy and could time travel 1982 John McEnroe to play today's elite, he would get destroyed.
I think as a society of sports fans we understand that sprinters from the early 20th century would be no match for today's Olympians, or that basketball players from the 50s would face an impossible task trying to guard LeBron James. Why are we in so much denial about the advancement of baseball players then?
I think it's largely because baseball is a game passed on by generations, and that's part of what makes it special. Your father told you about Honus Wagner, just like his father or uncle or grandmother told him. His legend has lived on for almost 100 years and statistically he's still the best. But did the best shortstop ever really play 100 years ago? While it's great to appreciate the past, it's another to cling to it out of convenience or from a fear of disrupting the status quo. Spoiler: I did not rank Wagner as my number one shortstop, but he did make my top three, and the top twenty five overall. Still, that's lower than you're used to seeing him on other top 100 type lists. You will find similar adjustments throughout my rankings.
Context is king. Even though many dead-ball and segregation stars are still statistically the best players at their position, they were essentially playing a different game. If we are willing to knock modern steroid users down and not take all of their accomplishments at face value because of their illegal drug use, I think it's fair to do the same with players who played in the game's infancy and while it was still developing into the game we love today.
I'll write up a bit about each player on the list. Most of the write-ups have Play Index searches or other links accompanying them. If you just want the list itself you can scroll to the bottom of the page to view and download this section. (250-226)
Now onto the list!
250: Joe Tinker– One part of Chicago's famed double play combination (with Evers & Chance). Tinker was a slightly below average hitter for his time but an elite defender. He won back-to-back championships with the Cubs in 1907 & 1908.
249: Ted Simmons– An above hitter & defender. Among all catchers who played at least 50% of their games behind the plate Simmons ranks 10th in Baseball-Reference's WAR (bWAR).
248: George Sisler– Sisler hit over .400 twice and has a career average of .340.
247: David Ortiz – Ortiz currently has an adjusted OPS of 140, 466 career home runs, and has been a key contributor on three Red Sox championship teams. The New York Times reported that he failed MLB's initial survey test for steroids in 2003.
246: Luis Aparicio– The defensive wizard before Ozzie Smith. Aparicio won nine gold gloves at short, he also stole 506 bases.
245: Bill Terry– Hit .401/.452/.619 in 1930 a year no MVP was officially named. Sporting News conducted their own poll and declared Terry the victor. Terry hit .341 for his career.
244: Willie Foster– Foster a lefthander was also the stepbrother of Negro League star/pioneer Rube Foster. Representing the Chicago American Giants he started the inaugural East vs. West All-Star game in 1933. He pitched a complete game and earned the victory.
243: Joe Medwick– In the 1934 World Series (at age 22) Medwick hit .379/.400/.552, helping the Cardinals capture the title in seven games over the Tigers. He led the NL in doubles & RBI three straight years from 1936-1938.
242: Koji Yamamoto– Japanese star known for his defense and exceptional power. He hit 536 home runs over his 18 year career and also won 10 consecutive Diamond Glove awards. He finished his career with 2,339 hits and slash line of .290/.381/.542 over 9,409 plate appearances.
241: Stan Coveleski– Spitballer who led the American League in ERA twice. He pitched three complete games in the 1920 World Series earning the victory in all three guiding his Indians to a World Series win over the Brooklyn Robins. 
240: Billy Herman– An above average hitter & defender. Herman missed all of his age 34 & 35 seasons due to his military service in World War II.
239: David Wright– When healthy Wright has been well above average at the plate and in the field. His adjusted OPS of 134 ranks 10th all time among third basemen with at least 3,000 plate appearances. If Wright continues to produce at this level he will soar up this list likely placing himself in the top 150.
238: Robin Ventura– Ventura is widely considered one of college baseball's all-time great players. In the pros he won six gold gloves and finished his career with 294 home runs.
237: Thurman Munson– Munson won the Rookie of the Year in 1970 and the MVP in 1976. He helped the Yankees win back-to-back World Series championships in 77 & 78. He died from complications of a plane crash at the age of 32. He was still an active player at that time.
236: Ben Taylor– Taylor consistently posted high batting averages in the Negro Leagues and in Cuba. He hit over .300 in 15 of his first 16 NLB seasons. Oscar Charleston selected Taylor as his first baseman on his all-time All-Star team.
235: Wilbur Wood– Knuckleballer who was used mostly as a reliever until his age 29 season. As a starter from 1971-1975 Wood dominated leading the majors in starts four consecutive years starting in 72. In two of those years he posted a bWAR of 10 or higher.
234: Fred McGriff – Finished his career with 493 home runs. The 94-95 strike and the "steroid era" likely cost him a plaque in the Hall of Fame.
233: Sal Bando – Won back-to-back-to-back championships with the A's from 1972-1974.  He played in at least 145 games 11 straight seasons from 1968-1978. Later became GM of the Brewers.
232: Mordecai Brown– From 1904-1910 Brown posted an ERA under two in six of seven seasons. That includes his 1906 ERA of 1.04, third lowest all time. He also helped the Cubs win back-to-back championships in 1907 & 1908. He pitched with two deformed fingers in his throwing hand due to a farming accident when he was a child. He was later nicknamed "Three Finger" Brown.
231: CC Sabathia– Pitched 200 or more innings in seven consecutive seasons from 2007-2013. Injuries have started to take their toll on Sabathia, he was limited to just 46 innings in 2014 and displayed career low velocity on his fastball. He's still likely to eventually join the 3,000 strikeout club.
230: Jud Wilson – Wilson was known for his power at the plate and his willingness to pick a fight. He was notorious for physically challenging umpires and pitchers. A slugging offensive minded third baseman who dominated in the Negro Leagues and in Cuba. Wilson was elected to the Baseball Hall of Fame in 2006.
229: Willie Davis– Known for his glove and speed. Davis won three Gold Gloves and twice led the National League in Triples. He never received the acclaim he deserved during his playing career.
228: Pud Galvin – MLB's first 300 game winner (he finished with 365). In 1883 Galvin made 75 starts and pitched 656.1 innings.  It was a very different game then. Athletes have always used drugs to enhance their performance, Galvin was no different.
227: Victor Starffin– Starffin, a Russian, fled his homeland to Japan after the Revolution. He stood 6′ 3″ making him one of the tallest players in Japan at the time. He was Nippon Pro Baseball's first 300 game winner (he finished with 303). Further reading on Starffin can be found here and here.
226: Sherry Magee– An overlooked star from the dead-ball era. Magee finished Top 10 in the NL in home runs and RBI seven times each. He retired with 2,169 hits.
You can view and download this section of the list below.
Data courtesy of Baseball-Reference.com
Related Posts: Part 1 (250-226), Part 2 (225-201), Part 3 (200-176), Part 4 (175-151), Part 5 (150-126), Part 6 (125-101), Part 7 (100-76), Part 8 (75-51), Part 9 (50-26), Part 10 (25-1)
Follow me on Twitter @RossCarey and join the conversation at #Top250