This is part six of my series ranking the top 250 baseball players ever to play the game. For more information about how this list was compiled please refer to part one. This section is for players ranked 125-101.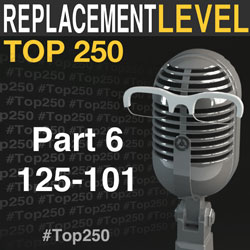 125: Scott Rolen finished his 17-year career with 316 home runs, and an on-base percentage of .364. However, it was his defense that made him elite. He won eight Gold Gloves and rates as one of the best third basemen in Major League history.
124: Martín Dihigo was a star pitcher and infielder who is the only person enshrined in five different baseball Hall of Fames. (American, Mexican, Cuban, Dominican, Venezuelan) Which is to say everywhere he played, he was thought of as an all-time great. Buck Leonard agreed with that sentiment and took it one step further saying, "He was the best ballplayer of all time, black or white." Further reading on him can be found here and here.
123: Minnie Miñoso was a star in Cuba, Mexico, and the Negro Leagues long before his Major League career began. Once he was given the opportunity to play in the majors regularly he quickly became one of the league's best players. He had speed, power, and the ability to get on base. Because of a series of publicity stunts, his Major League career spanned five decades. Christina Kahrl wrote this excellent piece on him a few years ago.
122: Juan Marichal wasn't the first person from the Dominican Republic to play in Major League Baseball but he was their first star. A 9-time All-Star, he finished his 16-year career with 243 wins, 2,303 strikeouts, and an ERA of 2.89, which converts to an ERA+ of 123. On July 2nd, 1963 Marichal pitched one of the great games ever when he threw a 16-inning complete game against the Braves. He was the central figure in the notorious "Roseboro incident" which saw him strike Dodgers catcher John Roseboro with his bat after he felt Roseboro was intentionally trying to hit him with the ball when throwing it back to the pitcher. Marichal was subsequently suspended eight games for the incident and was later sued by Roseboro for damages.
121: Roy Halladay had quite the 2010 season. That year he pitched a perfect game in the regular season, a no-hitter in the playoffs, and won his 2nd young Cy Young award. He finished his career with 203 wins, 2,117 strikeouts, and an ERA+ of 131. He's one of just 25 pitchers with at least 60 WAR/40 WAA.
120: Carlos Beltran became just the 4th player in Major League history to accumulate 2,500 hits, 1,500 runs, 1,500 RBI, 400 HR, and 300 SB. The others to hit all of those marks: Mays, Bonds, and A-Rod. Beltran is simply one of the great speed/power combos the game has ever seen. Even if you remove the stolen base component to those numbers, he's one of twenty-three on this impressive list. He's also one of the great postseasons performers ever to play.
119: Dazzy Vance did not become a regular major leaguer until the age of 31, that didn't prevent him from becoming an all-time great. He led the NL in strikeouts seven straight seasons, he also led the league ERA three times, FIP seven times, and wins twice. In 1924 he won the pitcher's Triple Crown and the NL MVP. He is one of the players featured in the Ogden Nash poem Line-Up for Yesterday.
118: Mark McGwire hit 49 home runs as a rookie, that's still record. During his career he averaged a homer every 10.6 at-bats, another record. He hit 70 home runs in 1998 briefly establishing a new single season record. He finished his career with 583 home runs. However, McGwire's legacy is complicated. He was initially accused of doping by former teammate Jose Canseco, he was called in front of congress on the matter and humiliated himself uttering the phrase "I'm not here to talk about the past" over and over again. The New York Daily News detailed McGwire's steroid use in this piece, and eventually after years of denying he ever used, he came clean admitting to doping on-and-off throughout his sixteen-year career. We have no way of knowing how many home runs he would have hit had he never used. There was no formal testing or punishments in place for using steroids or PEDs of any kind in MLB until 2005, McGwire retired in 2001.
117: Manny Ramirez like McGwire leaves behind a complicated legacy. He retired as a twelve time All-Star, two time World Series champion, and a member of the .300/.400/.500 club. However, he was suspended on two different occasions for steroid use. The New York Times reported he also failed MLB's initial survey test for steroids in 2003.
116: Sam Crawford is MLB's career leader in triples (309), he retired with a .309 batting average, and 2,961 hits. He was the 1st player to lead both the AL & NL in home runs. Ty Cobb, his longtime rival, wrote hundreds of letters to the Hall of Fame endorsing his enshrinement. Crawford was eventually elected in 1957.
115: Bullet Rogan was one of the best two-way players the game has ever known. While serving with the U.S. Army he was recruited to join the 25th infantry Wreckers, which was one of the best baseball teams around at the time, black or white. He later helped the Kansas City Monarchs win three straight pennants from 1923-1925, and a Negro League World Series championship in 1924. Joe Posnanski wrote this fantastic piece on his life and career.
114: Frankie Frisch finished his career with a .316 batting average and 2,880 hits. He played in eight World Series', winning four of them. After his playing career he became head of the Hall of Fame's Veterans Committee. During his tenure he was responsible for several of his former teammates getting enshrined (Chick Hafey, Jesse Haines, Dave Bancroft, High Pockets Kelly, and Ross Youngs), many of those players are considered among the least qualified or "worst" players in the Hall of Fame. Read more about Frisch's tenure as head of the Veterans Committee in Bill James' excellent book The Politics of Glory.
113: Roy Campanella began playing in the Negro Leagues at the age of 15, he didn't make his MLB debut until he was 26. For context, both Johnny Bench & Ivan Rodriguez debuted in the majors at the age of 19 and were stars by 20. There's no reason to believe Campanella wouldn't have done the same the thing had he simply been given the opportunity to do so. Campanella still won three MVP awards, and hit 242 home runs over his ten year Major League career. During the offseason of 1958 he was involved in a car accident that left him paralyzed; he never played baseball again and was forced to retire at the age of 36.
112: Isao Harimoto was born in Hiroshima, he survived the bombing, and is believed to be the only survivor to become a professional baseball player. He finished his NPB career with 504 home runs, 319 stolen bases, and 3,085 hits. His hit total is the most in NPB history. He had a rare combination of speed, power, peak performance, and longevity that's really only been matched by one other baseball player, ever. That's Willie Mays who is the only other player to reach each of the 500/300/3000 thresholds. Further reading can be found here and here.
111: Alan Trammell is a prime example of the sniff test gone wrong. He was an excellent defender and an above average hitter but he wasn't leading the league in anything. He didn't come close 3,000 hits, and never won a regular season award from the BBWAA, though he did finish 2nd in MVP voting in 1987. Advanced metrics have helped shine a light on Trammell's career and just how underappreciated he was. He is a member of the 70 WAR/40 WAA club, he's the only shortstop of the group not in the Hall of Fame.
110: Lou Whitaker like his longtime teammate Trammell never quite received the recognition he deserved. Overshadowed by more famous players at the position, Whitaker's consistency was often miscategorized as good but not great. He also achieved 70 WAR/40 WAA, and is one of just eight middle infielders in Major League history with at least 2,000 hits, 200 home runs, 1,000 RBI, 1,000 runs, and 100 stolen bases. He has the highest career WAR of anyone bounced from the Hall of Fame ballot their 1st year on it.
109: Roberto Alomar did not suffer from underratedittis. He is and was perceived to be at the time an all-time great. He won ten Gold Glove awards and was named to twelve All-Star teams. He was involved in an ugly incident during a game in September of 1996 when he spat in the face of umpire John Hirschbeck after being ejected for arguing balls & strikes. He was eventually suspended for the first five games of the 1997 season because of the incident. After his retirement at least four different women, including his ex-wife, have accused him of knowingly infecting them with HIV.
108: Craig Biggio finished his 20-year career with 3,060 hits, 668 doubles, 291 home runs, and 414 stolen bases. Here's the list of players who have matched or bettered that kind of production. He was also hit-by-a-pitch more times than anyone else in the modern era. His last season was one of the worst ever produced by a future Hall of Famer.
107: Phil Niekro was known for his knuckleball and longevity. Even though he didn't make his Major League debut until he was 25 he still pitched in over 5,000 innings, won 318 games, and struck out 3,342 batters. From 1974-1979 he averaged 7.9 bWAR a year. Only Cy Young and Randy Johnson accumulated more pitching WAR after turning 30. However, there is a huge discrepancy with Niekro's WAR totals, particularly between his Baseball-Reference WAR and his Baseball Prospectus WARP. WAR, based on run prevention and innings pitched views Niekro as nearly a 100-win player, who was 15% better than league average over the course of his career. That's an all-time great. WARP, based on DRA, sees Niekro as a 40-win player, who was 4% worse than league average over the course of his career. That's not good. I tend to favor ERA based models when looking back but I do think it's important to acknowledge the discrepancy and point out that at least one system views his career as mediocre, and as someone that should have no place on this list. His poor DRA did influence my ranking.
106: Tim Raines is still not in the Hall of Fame and that's a shame, though that mistake should get rectified this January. Over the course of his career Raines stole 808 bases and was successful 84.7% of the time. There are five players in Major League history with at least 700 stolen bases and 700 extra base hits, Raines is one of them and the only one not in the Hall of Fame. A neat little fun fact about Raines is that he actually got on base more times (3,977) than Tony Gwynn (3,955). Raines entered rehab for drug abuse in 1982, he later was one of the players who testified in the Pittsburgh drug trials. More on hid Hall of Fame case can be found here and here.
105: John Smoltz was one of the great postseason performers of all time. In 209 playoff innings he had a record of 15-4, with 199 strikeouts, and an ERA of 2.67. He was a key part of the Braves teams of the 90s and early 2000s that won fourteen division titles in a row (1991-2005). He finished his career with 3,084 strikeouts, and 154 saves. He is the only player in Major League history with at least 200 wins and 150 saves.
104: Carlton Fisk retired having caught more games (2,157) than anyone else, and having hit more home runs (351) than any catcher (both records have since been broken). He hit one of the most memorable home runs in baseball history with a walk-off in the 12th inning of game 6 of the 1975 World Series. Fisk was arrested for DUI in 2012. He later pleaded guilty.
103: Willie McCovey played in a low run scoring environment but still emerged as an all-time great power hitter. He finished his career with 521 home runs, and an OPS+ of 147. He was named NL Rookie of the Year in 1959, and NL MVP in 1969.
102: Eddie Plank won 326 games during his seventeen-year career. He was the first left-hander to win 200 games, and the first to 300 as well. Hall of Famer Eddie Collins said about him, "Eddie Plank was not the fastest, not the trickiest and not the possessor of the most stuff; he was just the greatest." He was elected to the Hall of Fame posthumously in 1946.
101: Ron Santo led the NL in walks four times, and on-base percentage twice. He was a nine-time All-Star, and won five Gold Glove awards. He finished his career with 342 home runs and an OPS+ of 125. He was the first player ever to veto a trade. Santo suffered from type 1 diabetes, complications from that disease and bladder cancer took his life prematurely in 2010.
Part seven will be up tomorrow. Follow me on Twitter @RossCarey and join the conversation at #Top250
Related posts: Part 1, Part 2, Part 3, Part 4, Part 5, Part 6, Part 7, Part 8, Part 9, Part 10