This is part seven of my series ranking the top 250 baseball players ever to play the game. For more information about how this list was compiled please refer to part one. This section is for players ranked 100-76.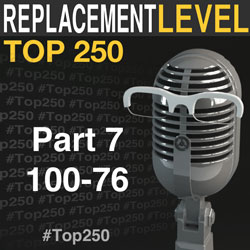 100: Ryne Sandberg could run (344 SB), hit for power (282 HR), and hit for average (.285). He was selected as an All-Star ten times, and won the Gold Glove award nine times. He was voted the NL MVP in 1984. From 1984-1992 he averaged 6.2 wins a year (bWAR), and on six different occasions he posted a WAR of 5.0 or better.
99: Luke Appling led the AL in batting average twice, and finished his 20-year career with an OBP of .399. He retired having played more games at shortstop than anyone else in Major League Baseball history but that mark has since been surpassed several times. He missed nearly two full seasons due to his military service in World War II. With those years he would have almost certainly collected 3,000 career hits, he finished with 2,749.
98: Jim Thome never quite received the acclaim that many of the power hitters of his era did. He never won a MVP award, and he was only selected as an All-Star five times. Many of his contemporaries have since been linked to steroids or other performance enhancing drugs but Thome, despite a witch-hunt to find users, has remained unscathed. He is one of just nine players in MLB history with 500 home runs and a career on-base percentage over .400.
97: Paul Molitor is one of just seven players to finish his career with 3,000 hits and 500 stolen bases. He was also named the World Series MVP in 1993. He admitted to using both cocaine and marijuana early in his career.
96: Iván Rodríguez made his MLB debut at the age of 19, he ended up catching more games (2,377) than anyone else in history. Known for his defensive excellence, Rodriguez also compiled the most career hits (2,844), runs (1,354), and doubles (572), ever by a catcher. He won the AL MVP in 1999, albeit under dubious circumstances. His former teammate Jose Canseco claims to have personally injected him with steroids. When asked if he failed MLB's initial survey test for steroids in 2003, Rodriguez replied, "Only God knows." He will appear on the Hall of Fame ballot for the first time later this year, because of Canseco's accusations and the persistent rumors of his steroid use he will likely have to wait a few years to write his induction speech.
95: Barry Larkin won the NL MVP in 1995, and a World Series championship in 1990. He was a twelve- time All-Star, nine-time Silver Slugger, and three-time Gold Glove winner. His only weakness was staying on the field, he played in 140 games or more in only seven of his nineteen seasons.
94: Paul Waner retired with 3,152 hits, and a career batting average of .333. In 1927 he established a Major League record for consecutive games with an extra-base hit (14), he won the NL MVP that year too. He is one of 26 Hall of Famers with a career OBP of at least .400.
93: Gary Carter like most catchers was underappreciated. Catchers usually don't play as many games as other position players, the position itself takes a physical toll on their bodies, which limits their offensive production, and none of them reach any of MLB's big milestone numbers. Very few even finish their careers with a batting average over .300. But they're important. They directly influence the game perhaps more than anyone except the pitcher. We are learning more about pitch framing, blocking, and sequencing. Wins Above Replacement is real, it represents the best estimate we have right now of a player's single season or career value. That stat is great particularly at grouping players together, however one area the metric can be fairly criticized is how it measures catcher's defense.  Great defensive catchers are almost certainly more valuable than WAR is currently giving them credit for. Baseball Prospectus is doing great things with catching metrics and has incorporated some of them into their WARP estimates but it's still not accounting for everything. That takes us to Gary Carter, who ranks as as one of the best catchers ever, regardless of which WAR model you use. He was known for his defensive excellence but he's not getting full credit for his actual defensive value. He was better than we are giving him credit for, and we already know he was great.
92: Harmon Killebrew was known for his power, he led the AL in home runs six times and finished his career with 573. He won the AL MVP award in 1969, and is one of just nine players in Major League history with at least 500 home runs, 1,500 RBI, and 1,500 walks.
91: Shoeless Joe Jackson is still on MLB's ineligible list. That's because he was a member of the 1919 White Sox, and he and seven of his teammates were accused of taking payouts from gamblers in exchange for throwing the World Series that year. The matter eventually went to court and Jackson and his teammates were acquitted of any wrongdoing. However, Major League Baseball was not as lenient. Kenesaw Landis, the new commissioner of the league, banned Jackson and his teammates for life. They never played another game in the majors after 1920. On the field, Jackson was elite. He's a member of the.300/.400/.500 club, and his career batting average of .355 ranks third all time.
90: Kid Nichols was a star of the dead-ball era for the Boston Beaneaters, He finished his career with 361 wins. He is the youngest player ever to reach 300 wins. He claims to have never been replaced by a reliever in any game he started. Further reading can be found here.
89: Robin Roberts never won a Cy Young, MVP, or a World Series ring, but he's still one the best to ever take the mound. From 1950-1955 he was the best pitcher on the planet. During that stretch he led the National League in innings pitched five times, complete games four times, wins four times, and strikeouts twice.  He retired with the most home runs allowed in Major League history (505), that record has since been broken by Jamie Moyer.
88: Buck Leonard was one of the best hitters the Negro Leagues ever produced. He could hit for average and power, his bat was consistent and elite for the vast majority of his career. He was a longtime teammate of Josh Gibson's, together they anchored the Homestead Grays dynasty teams of the 1930s and 1940s. He played in eleven East-West All-Star games. Monte Irvin famously said about Leonard, "trying to sneak a fastball past him was like trying to sneak a sunrise past a rooster. " Further reading on Leonard can be found here, here and here
87: Duke Snider played in six World Series' with the Dodgers, winning two of them in 1955 and 1959. He retired with 407 home runs and an OPS of .919. He never won a MVP award but finished 2nd in voting in 1955. Joe Posnanski explains the controversy around that vote in this terrific piece.
86: Smokey Joe Williams' career predates radar but he could throw hard, perhaps harder and faster than anyone, black or white, at the time. In 1952 the Pittsburgh Courier polled several former Negro League players, writers, and officials and asked them to pick the all-time Negro Leagues team. Joe Williams received more votes than Satchel Paige. Ty Cobb once said he was, "A sure 30-game winner in the major leagues." Further reading on Williams' life and career can be found here and here.
85: Eddie Murray earned the nickname "Steady Eddie" because of his consistency at the plate that lasted for the bulk of his 21-year career. He retired with 3,255 hits and 504 home runs. He's one of only five players in Major League history to reach both milestones. He helped the Orioles win the World Series in 1983. A neat piece of history, he was a teammate of Ozzie Smith's in high school. In August of 2012 he was charged with insider trading by the SEC. He later settled.
84: Mike Mussina had the misfortune of having his career overlap with four all-time greats, Roger Clemens, Randy Johnson, Greg Maddux, and Pedro Martinez. He wasn't as good as those guys, but that doesn't mean he wasn't great in his own right. He is a member of the elite 80 WAR/40 WAA club, the others are pretty much the best pitchers ever. A grouping he belongs in. DRA is super high on Mussina too.
83: Mike Trout turned 25 in August and is already one of the best players anyone has ever seen. Through age 24, he has the most WAR and WAA in Major League history. He also ranks in the top ten in runs, walks, home runs, extra-base hits, and OPS+. He has led the American League in WAR five straight seasons, the only other position player to do that is Babe Ruth. He is quite simply outpacing every other player ever to play the game.
82: Mike Piazza is the best offensive catcher Major League baseball has ever seen. Among catchers he's the career leader in SLG%, OPS, ISO, and home runs. He also places in the top 10 in batting average, on-base percentage, RBI, and total bases. Piazza also has a signature moment to his credit, he hit one of the most memorable home runs in baseball history. All that from a guy who was original picked as a favor to Tommy Lasorda in the 62nd round of the 1988 draft. Baseball Prospectus has released a bunch of new catching metrics over the past few years; they suggest Piazza was not the poor defender he was often categorized as. He was elected to the Baseball Hall of Fame last year, his 4th year on the ballot. Rumors of steroid use followed him his entire career, he has denied ever using and there is no evidence to support the claims that he did.
81: Ernie Banks changed perceptions and expectations of what a shortstop could be. In 1958 he hit .313/.366/.614 with 47 home runs. His home run total that year was the new single season high for a shortstop, breaking his own record of 44 he established in 1955. Banks finished his career having won two MVP awards and with 512 career home runs. Knee problems eventually forced him to move to first base where he ended up playing the majority of his games but it's Banks that laid the blueprint for shortstops like Ripken, Rodriguez, and Jeter.
80: Ozzie Smith might just be the best defender the game has ever seen, or ever will see. His throwing arm, range, and ability to remain elite in the field for such an extended time are unmatched by any shortstop in history. He won 15 Gold Glove awards, was chosen as an All-Star 15 times, and helped the Cardinals win the World Series in 1982. He could run too, he finished his career with 580 stolen bases.
79: Tony Gwynn hit over .300 in 19 of his 20 seasons. He led the National League in batting average eight times, including a .394 mark in 1994. His career batting average of .338 is the highest of any player who debuted in the integration-era. Cancer took his life prematurely at the age of 58. More neat Gwynn stats can be found here and here.
78: Ichiro Suzuki was a star long before he debuted in the United States. In Japan he won three MVP awards, and seven batting titles. He was a seven-time All-Star, and a seven-time Best Nine winner. He left NPB having collected 1,278 hits and with a career batting average of .353. He didn't make his MLB debut until his age 27 season, when he did he became the first Japanese-born position player to play in Major League Baseball. That year he hit .350, stole 56 bases, and won the AL Rookie of the Year and MVP awards. From 2001-2010 he hit over .300 every year, led the AL in hits seven times, including setting the single season record with 262 in 2004. He's also won ten Gold Glove awards. Age eventually started to get the best of him, he became a part-time player but he kept collecting hits along the way. He surpassed 3,000 this year. His debut age of 27 is by far the oldest of anyone to reach 3,000 hits. His combined hit total from NPB & MLB is 4,308, and counting.
77: Robin Yount split his career between shortstop and centerfield and was great regardless of where he played. In 1982 he was a shortstop. That year he hit .331/.379/.578. He led the American League in hits, doubles, SLG%, OPS, OPS+, and had a rare 10+ WAR season. He won the MVP. In 1989 Yount was a centerfielder, that year he hit .318/.384/.511, he won the MVP again. He finished his career with 3,142 hits, 583 doubles, and 271 stolen bases, only sixteen players in Major League history have collected 3,000/500/200.
76: Turkey Stearnes was a power-hitting star of the Negro Leagues, he earned his nickname from the awkward way he ran. Here's what Hall of Famer Satchel Paige had to say about him, "One of the greatest hitters we ever had. He was as good as Josh [Gibson]. He was as good as anybody who ever played ball". Further reading on Stearnes can be found here and here.
Part eight will be up tomorrow. Follow me on Twitter @RossCarey and join the conversation at #Top250
Related posts: Part 1, Part 2, Part 3, Part 4, Part 5, Part 6, Part 7, Part 8, Part 9, Part 10