Two years ago I ranked the top 250 baseball players in history. The list included players from all over the world and across all eras. It was fun to do so I wanted to revisit the list with a fresh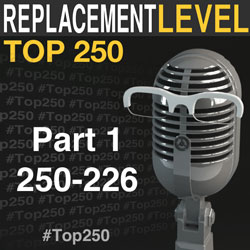 perspective. Going into it this time around I wanted to reevaluate my rankings, add new players who now deserve to be recognized, and see if any of the new metrics and information that have since debuted would change my opinions. They have. DRA for example, is a metric that wasn't around when I made the first list. BP has also added several new catching metrics as well. I looked at everything to compile this list from advanced metrics to rate stats to counting numbers but the list itself isn't based on any one WAR model or a formula I created. It's subjective. It's my list.
How to properly evaluate and adjust for players who played in the deadball-era or exclusively in Japan or in the Negro Leagues is anyone's guess. I favor the modern player, that was true on my initial list as well, but I think in effort to prove a point I ended up ranking some all-time greats too low. Placing Walter Johnson at 31 was a prime example of that. That mistake has been corrected. I also favor peak over longevity but the list features both types of players.
There are cheaters of all kinds on this list too, off-field scoundrels as well. I did try to adjust for some of the cheating, though I realize there is no way to know who was using what, for how long, and how much it actually helped. I've also noted some off-field misconduct when applicable, though I'm sure I've missed some incidents along the way.
The write-ups of the players are filled with links of all kinds. Play Index searches, SABR bios, Wikipedia pages, fun facts, and some random stuff too. Thank you in advance to those of you that click through and read all of that stuff as well.
Enough of the preamble, let's start the list.
250: Ted Simmons is one of only seven catchers in Major League history with 2,000 hits and 200 home runs. Among players that played at least 50% of their games behind the plate he ranks 10th all time in bWAR.
249: Ben Taylor was a slick fielding first baseman and a consistent contact hitter. He was widely regarded as a student of the game who was eager to pass along his knowledge. Buck Leonard credits him with teaching him how to play first base. He was inducted into the baseball Hall of Fame in 2006.
248: Luis Aparicio was born in Venezuela, he later became a ten-time All-Star at shortstop. He won nine Gold Glove awards and was widely regarded as the best defender the position had ever seen until Ozzie Smith came along. He also led the American League in stolen bases nine straight seasons from 1956-1964. He was the starting shortstop for the 1966 Orioles who swept the Dodgers in the World Series that year.
247: Darrell Evans had a few great years but for the most part was a steady contributor whose value was often under appreciated. He got on base, he hit for power, and did so for the bulk of his 21-year career. BP's WARP views him as a 70-win player.
246: Billy Herman was a ten-time All-Star who finished his career with 2,345 hits. He was known for his exceptional defense, he led National League second basemen in putouts seven times. He missed two full seasons due to his military service during WWII.
245: Joe Mauer will perhaps always be remembered as a "what could have been" guy. I don't know for sure the type of numbers Mauer would have produced had injuries not robbed him of several years of his prime and forced his premature move to first base, where his numbers look pedestrian. I do know that he was the fist American League catcher to win a batting title, which he did that three times. He was a MVP, a six-time All-Star, and he still clears the JAWS standard behind the plate.
244: Tommy John was a durable pitcher who was effective for an extremely long time. John, of course, was also the first player to undergo the surgery that now bears his name. He threw 2,544.2 innings after the procedure, that's still the most of anyone that has had it. Two years ago John joined me on my podcast to discuss his life and career.
243: Lance Berkman finished his career with a slash line of .293/.406/.537 which converts to an adjusted OPS of 144. Here are the integration-era corner outfielders and first basemen who can match or better that kind of production. He's in good company. Off the field Berkman recently appeared in a political campaign in Houston that opposed LGBT rights.
242: Stan Coveleski was a thrower of the spitball who led the American League in ERA twice, and finished his career with 215 wins. He pitched three complete games in the 1920 World Series.
241: Rick Reuschel had the misfortune of pitching on several bad teams that happened to be filled with subpar defenders. Just how good he was depends on which WAR model you prefer, his bWAR based on RA/9 is 68.2, his fWAR based on FIP is also 68.2, but his WARP based on DRA is a lackluster 49.3.
240: Mordecai Brown posted an ERA under two six times, this includes a 1.04 mark in 1906, which was the only time he actually led the league in the category. He helped the Cubs win back-to-back World Series' in 1907 & 1908. He pitched with two deformed fingers in his throwing hand due to a farming accident when he was a child. He was later nicknamed "Three Finger" Brown.
239: Victor Starffin was born in Russia. He fled his country to Japan after the Revolution. He was NPB's first 300 game winner, and finished his career with 303. He won 42 games in 1939, which is still NPB's single season record. During World War II as extreme xenophobia developed throughout much of Japan he was forced to change his name to Suda Hiroshi. He was later placed in the Japanese equivalent of a wartime internment camp. He was inducted posthumously into the Japanese Baseball Hall of Fame, and a stadium is named after him in Asahikawa.
238: Thurman Munson won the Rookie of the Year award in 1970 and the MVP in 1976. He helped the Yankees win back-to-back World Series championships in 77 & 78. He died from complications of a plane crash at the age of 32, he was still an active player at that time.
237: Jud Wilson was a star in the Negro Leagues who was known for his power at the plate and his willingness to pick a fight with just about anyone. He was elected to the Hall of Fame in 2006. He served with the U.S. Army during WWI.
236: Pud Galvin was the first pitcher to win 300 games (he finished with 365). Athletes have always used drugs to enhance their performance Galvin was no different.
235: Sherry Magee is an overlooked star from the deadball-era who regularly finished in the top 10 in home runs and RBI. He was involved in an ugly incident in 1911 when he attacked the home plate umpire after being ejected for arguing balls and strikes.
234: Willie Randolph never quite received the accolades a player of his value should have. He was an exceptional fielder but never won a Gold Glove, he got on base a ton but did so during a time when batting average was king. His value may not have been clear at the time but he's a 65-win player. Here are the other middle infielders that have also reached 60+ WAR.
233: Willie Davis won three Gold Glove awards and twice led the National League in triples. Only ten integration-era centerfielders have reached 60+ WAR, he's one of them. In game two of the 1966 World Series he made three errors in the same inning.
232: Zack Wheat hit over .300 in 14 of his 19 seasons and finished his career with 2,884 hits. He had tiny feet, it's believed he wore a size 5.
231: Koji Yamamoto was known for his defense and exceptional power. He hit 536 home runs over his 18-year career and also won 10 consecutive Diamond Glove awards.
230: Bobby Doerr was an All-Star game regular in the 1940s and early 1950s. He hit 15 home runs or more ten times and finished his career with 223 of them. He missed all of his age 27 season while serving with the U.S. Army in WWII. At age 98, he is currently the oldest living former Major Leaguer.
229: Red Faber was the last pitcher in the American League legally allowed to throw the spitball. He was a member of the infamous 1919 White Sox but was not implicated in the betting scandal as he was injured and did not participate in the World Series that year. He served with the U.S. Navy during WW1.
228: Louis Santop was nicknamed "Big Bertha" a nickname derived from German artillery. A catcher, who was a large man with lots of power, and a legendary throwing arm. He was also one of the biggest draws in Negro League history. He served with the U.S. Navy during WWI. Further reading on Santop can be found here and here.
227: Buddy Bell was an elite defender who won six Gold Glove awards. His dad played in the majors for fifteen years and both of his sons made it too. After his playing career he eventually became the manager of the Tigers, Rockies, and Royals.
226: Ted Lyons is the only pitcher in the Hall of Fame with more walks than strikeouts. In 1942 he started 20 games, he finished all of them and led the American League in ERA. He was 41 years old. After that season he enlisted with the U.S. Marines and served during WWII.
Data courtesy of Baseball-Reference.com
I will post the list in chunks of 25 over the next two weeks. Part two will be up tomorrow. Follow me on Twitter @RossCarey and join the conversation at #Top250
Related posts: Part 1, Part 2, Part 3, Part 4, Part 5, Part 6, Part 7, Part 8, Part 9, Part 10